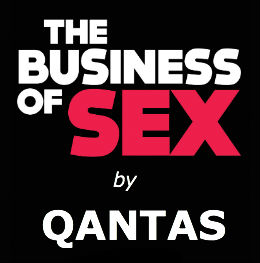 The homosexual push—a new form of caliphate
Exclusive
by Chaucer
Qantas has a very arrogant CEO in Mr Joyce
The propaganda: "you're one of us, you just don't know it yet."
Qantas CEO Alan Joyce, knowing nothing about Aussie culture, laughs in the face of age-old Australian custom. There are three thing not discussed in public, religion, politics and wife—i.e., love life!
This LGBTIQ downshouting promoted by the proud homosexual, Alan Joyce, under the nation's Flying Kangaroo has made a hop too far. His euphoria of being queer, in the minds of many, appears bolstered by overt bravado for his sexual bent. And the downshouting like his which fills the airwaves against anyone disapproving, or even blase about sexual proclivities, appear sometimes to be bordering on a degree of mental fragmentation driven by self-loathing and/or guilt.
Who is the real bully in this aggressive LGBTIQ playground?
Strangely, the precious Alan Joyce seemed shocked that a brazen contrarian unwilling to share a homosexual's confusing passage in life did shove a lemon cream pie in his face at a public meeting. The man said he objected to Qantas being used by Mr Joyce to impose his personal gay marriage crusade upon all Australians—here-here many would cheer. Except for a bloated ego, what injury could a cream pie cause? Nevertheless, Joyce is insisting the remorseful man face several charges for assault.
Joyce in The Australian: "No attempt at bullying us into suppressing our voice will work," a defiant Mr Joyce said, vowing to step up his advocacy of same-sex marriage in response to the pie attack. "What happened yesterday has reinvigorated me, in actual fact. [It] has really encouraged me to continue to be out there and express my views even more strongly than I have done in the past."
Such a dummy-spit is akin to the parade of mincing poodles seen strutting tight-arsed along the avenues of gay inner Sydney, lisping obscenities at bewildered straights. In rainbow tones blazoned one may be entertained from time to time by a lover's spate where hormonal confusion manifests in feline bitchiness as claws are unsheathed.
In support of Joyce a gay man commented in The West Australian about the humiliation and degradation from a pie in the face gag. "You can't recover from it on the spot, you can't shake it off and you need to stay composed even though you are so filthy you need a shower and a dry cleaner. A citrus, creamy pie sticks to you like nothing else. You don't feel clean for the rest of the day." What utter bullshit! The pie was on his face, not from head to toe. The incident was at the Hyatt Regency Hotel. A luxury VIP room was on hand. And, Joyce's salary of $13 million would no doubt provide several changes of suits, etc. My how they rally!
Alan Joyce needs to learn in terms just as forcefully as his advocacy for homosexuality that more than 95% of Australians don't give a tuppenny stuff what a handful of poofs do in their in their bedrooms. Sexual dispositions are a private and personal matter that most "normal people" neither want to know about, care about nor share.
Joyce's resolve to up his bullying to change the minds of those who view homosexuality as a perversion is deplorable. As he said—… express my views even more strongly than I have done in the past, is his right, but not preached from the pulpit of Qantas, a global brand that personifies the Aussie ethos. Under the guise of the now hijacked word "equality" the public are right to have such vigour tested—a Qantas boycott perhaps, as many have already done? He might find the flying public and shareholders are more interested in a Qantas profit rather than a Qantas sponsored LGBTIQ campaign to serve an aberrant minority.
The LGBTI crowd have become overreaching as they desperately seek acceptance for their sexuality. Why is it that heterosexuals feel no such need? It is not heterosexuals that contact companies and bully them to embrace gay marriage and threaten boycotts if they don't. Our parliamentary system is experiencing an increase in relatively single-issue homosexuals. A minority passing laws that affect a nation, a nation in which Catholicism is strong. The Catechism of the Catholic Church # 2357: Homosexuality refers to relations between men or between women who experience an exclusive or predominant sexual attraction toward persons of the same sex. It has taken a great variety of forms through the centuries and in different cultures. Its psychological genesis remains largely unexplained. Basing itself on Sacred Scripture, which presents homosexual acts as acts of grave depravity, tradition has always declared that "homosexual acts are intrinsically disordered." They are contrary to the natural law. They close the sexual act to the gift of life. They do not proceed from a genuine affective and sexual complementarity. Under no circumstances can they be approved.
Misery loves company and the LGBTIQ vanguard want to drag non-believers, the new "infidels", through their mental conundrums on their journey in quest of unconditional acceptance, and approbation. The ramifications are well documented.
15.15% of LGBTI people aged 16 and over report current thoughts of suicide in the past 2 weeks. (see report below)
The National LGBTI Health Alliance Snapshot of Mental Health and Suicide Prevention Statistics for LGBTI People (July 2016) states:
LGBT people aged 16 and over scored an average K10 score of 19.6, indicating moderate psychological distress
15.15% of LGBTI people aged 16 and over report current thoughts of suicide in the past 2 weeks
37.2% LGBT people aged 16 and over reported being diagnosed or treated for any mental disorder in the past three years
35% of Transgender people aged 18 and over have attempted suicide in their lifetime
60% of people with an intersex variation aged 16 and over had thought about suicide on the basis of issues related to having congenital sex variation
20.3% LGBTI people aged 16 and over reported that they had been diagnosed with anxiety in their lifetime
30.5% of LGBT people aged 16 and over have been diagnosed or treated for depression in the last three years
16% of LGBTI young people aged 16 to 27 reported that they had attempted suicide.
For further information visit http://lgbtihealth.org.au/statistics
Private Lives 2 (2012) surveyed almost 4,000 LGBT people and found:
High rates of depression in same-sex attracted men (24% of sample), same-sex attracted women (33%), and transgender men (38%) and women (50%)
Nearly 80% had experienced at least one episode of intense anxiety in the 12-months prior to completing the survey.
*****************************************
Source: News Corp
'We won't be suppressed': Qantas boss Alan Joyce 'reinvigorated' by pie to the face.
No pies were thrown when Alan Joyce fronted the cameras at Parliament House on Wednesday, but plenty of punches were.
The Qantas boss returned serve not only to the West Australian man who delivered a creamy dessert to his face at a business breakfast, but to his critics on the Coalition frontbench who have insisted he ditch the airline's public support for marriage equality.
Qantas boss responds to a pie being shoved in his face.
Alan Joyce says having a pie shoved in his face was 'a new experience'.
Mr Joyce indicated he would push for charges against ex-farmer Tony Overheu, 67, who stormed the stage at a Perth business event on Tuesday to lodge a $25.95 lemon meringue pie in the chief executive's face.
Mr Overheu told radio station 6PR he objected to Qantas' support for marriage equality, which he labelled "corporate bullying aimed at social engineering". He said he had been inspired by conversations at a weekend barbecue, where friends lamented "the subverting of our parliamentary process by activists".
"Lemon meringue appeared to the softest, the least likely to do any injury," he said.
The Qantas boss noted an email apology from Mr Overheu, but said he wasn't sure it expressed any actual regret.
Qantas earned the ire of conservatives in March when Mr Joyce was among 20 top business leaders who wrote to Prime Minister Malcolm Turnbull urging him to legalise same-sex marriage without a plebiscite.
Immigration Minister Peter Dutton led the fiery response, instructing Mr Joyce and others to "stick to their knitting" and dubbing their intervention in social policy debates "unacceptable".
On Wednesday, Mr Joyce responded publicly for the first time, insisting he would not be silenced.
"We live in a democracy. We're allowed to talk, we're allowed to be vocal, we're allowed to say what we believe," he said.
We live in a democracy. We're allowed to talk, we're allowed to be vocal, we're allowed to say what we believe
"I have every intention to continue to be vocal on those social and community issues. It's important for our shareholders, our employees and our customers. It's called good corporate social responsibility."
Tuesday night's budget flagged $170 million for a same-sex marriage plebiscite under "fiscal risks", in case the Senate reverses its decision to block the legislation.
Mr Joyce said it was very clear to him a plebiscite was "a bad idea" and "would bring out the worst type of behaviours and would encourage the type of [pie-throwing] situation we saw yesterday."
Equality Campaign director Tiernan Brady said the pie episode was a warning to all participants in the same-sex marriage debate that words "can inflict real damage and can lead to incidents such as this".
"Attacks like this have no place in Australian life," he said.