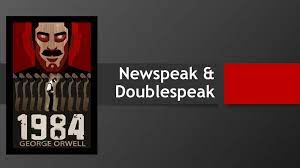 04.05.21
Possibly the biggest threat to our Australian democracy are the lies perpetuated by doublespeak.
"By using complex euphemisms, groups try to avoid being accountable for their actions."
In George Orwell's novel 1984, the term "Newspeak" conveys changes not only to the language but to the nature of thought itself, where "… the purpose of Newspeak was … to make all other modes of thought impossible … a heretical thought … should be literally unthinkable".
He was right; today we get lied to by both newspeak and doublespeak.
"Climate" is clearly a leader in allowing the elite to confuse us with "the hottest day ever" or the "world will not support humans if we don't stop burning coal" type pronouncements, and then justifying the statements saying "even if wrong, we benefit".
A favorite double-speak however was when firing someone telling them you are giving them "external career development opportunities".
But as
Loyd Pettegrew
shows the left of America are the best doublespeak practitioners:The progressive linguistic sleight of hand that has invaded America was forewarned more than eight decades ago by George Orwell and here it is now in living color. As Neil Sheehan wrote about the Vietnam War, it is our bright shining lie.
Americans are now living with a progressive linguistic lump of coal in our political stockings. It has been abetted faithfully by the MSM, the Biden administration en masse and the academy, save for Hillsdale and a few other conservative institutions of higher learning. This lump constitutes policies that almost to a one, give violence to and denigrate our U.S. Constitution as Bruce Thornton has explained. They have done this through clever linguistic turns of phrases that say one thing but mean something entirely different.
Scott Morefield has argued cogently that Biden's "use of 'systemic racism,' is nothing more than a rhetorical ploy coined by his leftist handlers to gain power." While it sounds powerful and convincing coming from the president of the United States, it is void of veracity. He is blindly following the linguistic lead of the woke who put him in office.
It is as ironic as it is disturbing that progressives always hurt the people they allege to care most about. The harm is creating dependency on the State rather than independence from it. One of their most effective tools is the corruption of the English language. From systemic racism to woke, microaggressions to unearned privilege, progressives are creating a new but false reality through the words they use. In fact, "woke" has been attributed to a black cultural term that has been co-opted for the ongoing culture war.
As Victor Davis Hanson has pointed out, "The benchmark of Black Lives Matter and affiliated woke movements are overt racism, systemic untruth, and the hypocritical privilege of their elite architects. All that is ossified and considered not enough. In its place is a damnation of all things 'white' with a new definition of diversity as simply all those, without any other affinities, who claim to be bound proudly together by being nonwhite." I have reviewed earlier the necessary priorities if black lives really mattered in these pages, none of which are promoted by wokeism.
George Orwell would be amazed but not amused at this new progressive doublespeak where words like equity, discrimination, racism and systemic have been imbued with new, made-up meanings. For example, there is a website where a host of these woke euphemisms are explained to you in plain English—equity means racial quotas; inclusion means discrimination against whites; opportunity is hiring discrimination against whites; multicultural inclusiveness means exclusion of male, heterosexual Caucasians; microaggressions are any words or deeds progressives don't like.
Orwell's main objection against the declivity of the English language is based not on aesthetic grounds, but the degradation of our native English. The new woke lingua franca goes hand-in-hand with an abject decline of human thought processes and the shape-shifting of human intention through rhetorical manipulation. Speakers as well as listeners will eventually drift toward political anarchy as is happening now. Orwell's recurring theme presented in Nineteen Eighty-Four is the connection between authoritarian regimes and (authoritarian) language. In his Politics and the English Language written 70years ago Orwell presciently stated, "(The English language) is rather the same thing that is happening. It becomes ugly and inaccurate because our thoughts are foolish, but the slovenliness of our language makes it easier for us to have foolish thoughts."
Linguist John McWhorter, author of Losing the Race and a series of brilliant articles, has opined:
"Another central part of the New Indoctrination is the battle against 'microaggressions.' An advanced society benefits from understanding that racism isn't always blunt or overt and that "little things" can hurt. However, too often, the definition of microaggressions is so broad as to condemn almost anything a white person says or does. It is forbidden to associate someone's color with any particular trait because it is stereotyping, but then it is also forbidden to say that one doesn't see color at all—and to question a person of color's claim of being discriminated against. What begins as a plea for compassion becomes a kind of bullying…They assume that their perspective is a truth that brooks no morally conceivable objection…Thought corrupts language, language can also corrupt thought."
McWhorter puts his linguistic finger on the woke language as not needing a reality check, just the opportunity to condemn others and pontificate their own virtue. As Eric Erickson and Bill Blankschaen suggest, "these radicals want to look as though they care as they force their views on others. It's what bullies do. That way other people think better of them, and they sleep better at night, assuaging any guilt they may feel for giving nightmares to genteel grandmothers.
I offer below a short list of progressive linguistic pretzels:
People of color can't be racist.
Government spending is really investing.
Any laws I don't like are Jim Crow laws.
The mainstream news is gospel.
Our woke government is here to help.
Follow the science as long as it's from our scientists.
Microaggressions are real if you feel them.
As McWhorter cautioned, "When intelligent people openly declare that logic applies only to the extent that it corresponds to doctrine and shoot down serious questions with buzzwords and disdain, we are dealing with a faith." This constitutes the linguistic roots of the new woke faith.
Some 30 years ago, Shelby Steele warned us of this linguistic pretzel in The Content of Our Character, saying "It presumed that black opportunity was sharply limited by racism and that blacks had to 'win' more 'victories' 'against' society before real opportunities would open up…an identity that still saw blacks as victims and that kept them at war with society even as new possibilities for advancement opened up all around…by focusing so exclusively on white racism and black victimization, it implied that our fate was in society's control rather than our own, and that opportunity was something that was given rather than taken."
Conservatives and moderates must be mindful of this new battle of language in America since facts and measurable outcomes no longer matter.