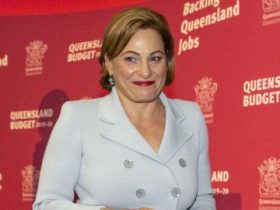 12.06.19. Judith Sloan at The Australian is spot on the money again—may be say always?
Ms Sloan pulls no punches in identifying the Deputy Premier of Queensland Jackie trad as not having a clue about finances. Clearly, neither does anybody else in the kingdom of the Palace-Duck! All Queenslanders can only hope that Labor is consigned to the dust bin come the next visit to the polls.
I like to keep a running scorecard of the performances of the state treasurers. You won't be surprised to learn that Queensland's Treasurer (and Deputy Premier), Jackie Trad, has occupied the wooden spoon position ever since she pushed out the previous incumbent.
Source: Judith Sloan, News Corp
Spendthrift treasurer doesn't have a clue
The fact is she doesn't have a clue about running the state's finances and cliches like "borrowing to build" are not helpful. She is not helped by a very weak bureaucracy, which becomes more bloated with every week.
When the Palaszczuk Labor government was first elected, promises were made that the excessive debt carried by the Queensland taxpayer — thanks to Peter Beattie and Anna Bligh — would be slowly paid down. There was even going to be a separate fund to achieve this.
Raids were made on the government superannuation fund and debt was shifted around between the ledgers of government-owned corporations and the general government sector. It was reminiscent of former prime minister Kevin Rudd's deceptive pledge to be an economic conservative.
Under Trad as Treasurer, there is absolutely no intention to pay down government debt or constrain the size of the public sector. In 2018-19, general government sector liabilities will amount to $77.4 billion; by 2022-23, the figure will be $87.4bn, an increase of 13 per cent.
Note that government debt in Queensland is the highest in the country among the states.
Having lost its AAA credit rating some time ago, there is absolutely no possibility that Queensland will regain this top rating in the foreseeable future.
The bigger risk is the state will be marked down a notch or two.
Another serious failing of the Palaszczuk government is its complete inability to control its own employee expenses. (This failing is shared by other state Labor governments.) According to the budget figures, employee expenses will rise from $24.1bn in 2018-19 to $27.2bn in 2022-23, an increase of 13 per cent.
Trad might like to portray rising employee expenses as being associated with population growth and frontline services. The reality is far more complicated and the fact that the government spends more than $1bn on contractors points to a government that doesn't believe in getting value for money on behalf of the taxpayer.
Notwithstanding Trad's visceral dislike of the resources sector, particularly thermal coal, the Queensland budget would be in tatters were it not for the rise in royalties. In last year's budget, royalties were expected to raise $4.6bn; the actual figure will be close to $5.4bn. In 2019-20, the expectation is that royalties will yield even more — $5.6bn.
And let's be clear: the trivial budget net operating balance of $189 million for 2019-20 would be deeply in the red without this flow of royalties. Mind you, this hasn't stopped Trad from breezily lifting the petroleum royalty rate from 10 per cent to 12.5 per cent and asking other resource companies to make a "voluntary" contribution in lieu of royalty hikes. Biting the hand that feeds you is clearly part of Trad's play book.
According to Trad, "budgets are fundamentally about choices and in this budget we choose to stay the course by continuing to invest in job-generating infrastructure and delivering better, essential frontline services for Queensland workers and their families".
An alternative formulation is as follows: budgets are fundamentally about choices and in this budget we choose to continue the reckless spending, build up more government debt and expand the unionised public service.