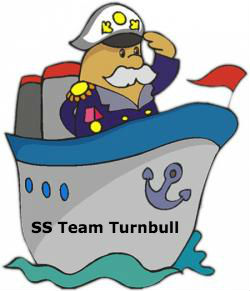 Poor Australia: a leaderless nation
The good ship Australia without a rudder!
While Malcolm Turnbull occupies himself with Lucy's sage-like advice because her man is always playing SSM and other important stuff like the total destruction of the Liberal Party, the real power is in the hands of leftwing idiots equally engaged with sending the nation down the dunny. If you don't believe that, you will aster reading this disgusting account. Then ask yourself, what would a real leader like Donald Trump would do?
A refugee ordered to be deported after having sex with a 12-year-old girl — and leaving her pregnant — remained in Australia for more than seven years by lodging a series of appeals to the Administrative Appeals Tribunal and the Federal Court.
Source: News Corp
Child-sex offender's seven-year reprieve
The Liberian refugee, Thomas Scott Gbojueh, was sentenced to 27 months' jail in mid-2009 after pleading guilty to twice having sex with the girl, which resulted in her having an abortion. The first offence took place less than four months after he arrived in Australia in 2006 from West Africa.
Gbojueh was deported to his home country last week by Home Affairs Minister Peter Dutton after several unsuccessful attempts to remove him dating back to February 2011 when Julia Gillard was still prime minister.
Mr Dutton escalated his attack on the AAT yesterday warning it was badly out of step with community expectations and that he would pursue changes to ensure Australia had "better consistency out of the judicial system".
"We have seen countless examples … where we've had criminals who have had their visas cancelled only to be reinstated by the AAT. I think we need to have a reflection of community standards," Mr Dutton told The Australian. "I want to make sure that if we cancel the visa of somebody who has committed a serious criminal offence, that their visa remains cancelled and they're deported … in a timely manner".
The Australian can reveal, that since Mr Dutton strengthened the character requirements of section 501 of the Migration Act in December 2014, there have been 3687 visa cancellations including 263 for child-sex offences.
Gbojueh first came to Australia in November 2006 as the holder of a refugee visa and was, in November 2008, convicted of rape as well as having sex with a person under the age of 14.
He was initially sentenced to a 6½ -year jail term but, on appeal in June 2009, he was acquitted of rape. Gbojueh was then sentenced to 27 months' imprisonment for having sex with someone under the age 14.
In February 2011, then immigration minister Chris Bowen cancelled his visa, resulting in Gbojueh's detention. However, the decision was set aside two months later by the AAT, which reinstated the visa despite admitting Gbojueh had failed the character test.
In its decision, the tribunal judged Gbojueh had a "well-founded fear of persecution" since he and his family were members of the Kranh ethnic group and were associated with the regime of former Kranh dictator Samuel Doe.
It rejected the Immigration Department argument that political change in Liberia meant Gbojueh's fears were no longer warranted.
Mr Bowen then cancelled the visa a second time in July 2011, resulting in Gbojueh again being placed in detention.
However, after seeking judicial review, the Federal Court ruled against the minister and Gbojueh's visa was reinstated.
In January 2014, then immigration minister Scott Morrison cancelled the visa for a third time. This resulted in Gbojueh seeking judicial review of the decision, with the Federal Court ruling in favour of the minister.
The issue remained stalled in the courts until 2015 when the Full Federal Court again found in favour of the minister's decision to cancel the visa. Gbojueh applied for a protection visa in May 2016. This was refused in August 2016 and, in April 2017, the AAT upheld the refusal decision.