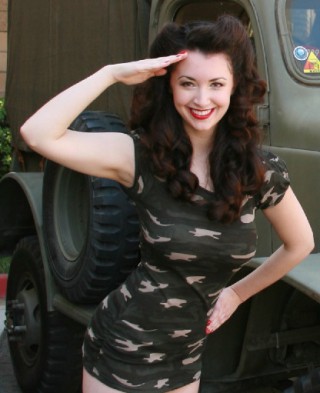 Exclusive
Personal story – for the Pin Up who smiles
Gregoryno6


April 6 marks the birthday of a lady who has become a special friend to many of America's wounded warriors: Gina Elise, the founder, CEO, and original star attraction of Pin Ups For Vets.
It was a memorable day that I first learnt about America's new pin up princess. I was in Melbourne in late 2006 and the news was just coming through on Tim Blair's blog that Saddam Hussein had been dispatched from this world. Alongside that story was a brief item on Gina's first calendar. Tim's readers responded with enthusiasm.
For myself the Pin Ups For Vets (PUFV) calendar presented an opportunity that I'd been looking for. I had grown disillusioned with the mainstream charities. Time and again I found that my small donations were coming back through my letterbox as begging letters.
There were other charities who indulged – not an unfair word – in such luxuries – again, not unfair – as billboard advertising and cinema spots. All the while crying poor, and lamenting the hard-hearted well-to-do who refuse to open their wallets. Simple rule of thumb: when a charity is doing well enough to afford that sort of self-promotion, it doesn't need any help from me.
Gina's original intention was to produce a one-off calendar for 2007, but fans and supporters began peppering her with questions almost immediately about a 2008 calendar. And when PUFV 2008 was delivered we demanded 2009. Little by little the network has grown, but it hasn't lost the style of a grass-roots community. Gina has now gathered in a wide array of pin ups, many of whom have themselves served in the military. In the early years however it was Gina who adorned every month of the year, presenting a new image with the help of costumes wigs and make up.
The PUFV ladies feature regularly now in US media as they visit old soldiers across the US. But there was a time when every door Gina knocked on remained closed. She relied on word of mouth and bloggers like myself. I produced a series of Gina Elise motivators – some of which I used in this short movie.
And despite the best efforts of Australia's Defence department (that's not sarcasm, that's a statement of fact) I made contact with a group that sends parcels to Australian troops serving abroad. I've made Christmas parcels for the Diggers my major charitable work. It's simple and direct with no expense-heavy charity taking its cut from my contribution. I don't get many responses from the troops – but when they do write, they always mention Gina's calendar!
Happy Birthday, Miss President. I'm looking forward to your tenth anniversary calendar. You're proof that one person can make a difference.