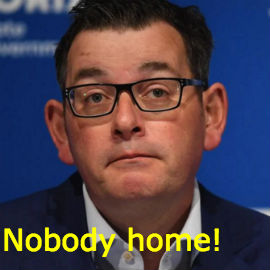 29.06.20.  Peta Credlin: If the Ruby Princess was a ship of fools, what on earth do you call a state run by one that puts every Australian's long-term livelihood at risk, asks Peta Credlin. So I reckon we're at a tipping point. How much longer do we allow Victoria to hold back the nation's economic recovery from COVID-19 and at what point does the Victorian Government have to take responsibility for its appalling mismanagement of this latest virus outbreak? A shoddy system of hotel-based quarantine where a third of people have been allowed to refuse testing, fining ordinary families but letting 30,000 Black Lives Matter protesters off scot-free, slow to act on a large breakout in an abattoir, spiking infections among Muslim families celebrating the end of Ramadan, risks with other new migrants illiterate in English, and now a premier who desperately needs assistance asking for the army to help clean up the mess and then abruptly changes his mind, all the while distracted by internal feuding that's seen the collapse of the Labor Party in Victoria and the loss of three ministers.
Source: Peta Credlin, The Daily telegraph
Victoria's COVID-19 case number spike risks Australia's economic recovery
If the Ruby Princess was a ship of fools, what on earth do you call a state run by one?
With only a couple of months of JobKeeper left and businesses desperate to try and get back to some sort of post-COVID normal, the need to open up more and more of our economy is critical. For this to happen, consumers must be confident to get out and about to spend, and state borders open up.
Yet just when this was all headed in the right direction, the latest coronavirus outbreak of community transmission in Victoria now threatens Australia's economic recovery.
For over 10 days straight, Victoria has seen double-digit increases in infections while across the rest of Australia the disease is all but non-existent other than showing up in quarantined travellers returning home.
Talking to businesses in Melbourne this week, the latest spike has seen their bookings dry up, and more and more cancellations come in for businesses that can barely even keep their doors open.
On Friday, the Prime Minister said that what's happening in Victoria could have happened to any other state. You've got to be kidding.
This is a plague-ridden southern state, run by a socialist premier who made out he had locked it down hard and fast, but didn't. Daniel Andrews presents as all 'Labor numbers-man tough' in his media appearances but there's absolutely no follow through when he gets back to his desk.
And is it any wonder there's widespread system failure when the number two health officer in his government doesn't know the difference between Captain Cook and Arthur Philip, yet we're all supposed to trust that for at least some of her medical subjects, she paid attention?
Give me a break.
But as bad as the government is in Victoria, it's also compounded by a dysfunctional federation and that affects us all.
I remain deeply sceptical about this new so-called National Cabinet. To date, it's turned out much better at shutting things down than at opening things up. It worked when the PM threw money at the problem (like ventilators) where the states had not met their existing responsibilities. But when it came to schools and now borders, it doesn't matter what premiers might agree at the meeting when they do whatever they want anyway.
The whole foundation of cabinet government is solidarity. It's about every person around the table being collectively bound by a decision that they may or may not have agreed with.
At the end of what's supposed to be a confidential and robust exchange (and it's rarely either these days), a decision gets taken and they all must support, and defend, it. As far as I can see, other than a name-change, this is the same old sclerotic beast that was COAG.
For years, policy boffins have been talking about "vertical fiscal imbalance" and "horizontal fiscal equalisation". What this means is that the Commonwealth has more and more financial muscle and political authority, even though the states still retain the legal responsibility for vast swathes of governmental activity.
Hence the states have 100 per cent say over the running of public hospitals, but the Commonwealth is expected to half-fund them.
The states entirely run public schools but, increasingly, via Gonski, the Commonwealth is on the hook to pay for them. Nearly all the government money in universities comes from the Commonwealth, but their statutes and governance arrangements belong entirely to the states.
One of the reasons it's so hard to get anything done is because it's no longer clear who does what.
Even passenger managements at international airports suffers from this confusion, because while the Commonwealth can impose bans, it's still up to the states to manage quarantine.
And this is where the whole COVID-19 mess began in the first place.
The one saving grace we've had as a country is that it was only up to one level of government to shut our national borders because that has been the single most important factor in protecting Australia.
Now the challenge is to get badly run states to do their jobs properly and for the rest of the country not to be held back when they don't.
Now more than ever it is critical we get the economy back up and running because if we don't, a spike in coronavirus will be the least of our worries.