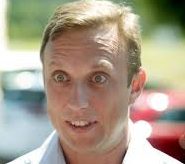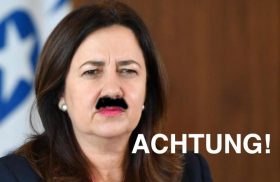 25.11.21.  You could be excused for thinking that the following article was found in the garbage bin at Monty Python's office, after a heavy night on cheap plonk. Ridiculous scribblings that when sober nobody sought to claim as script. As if almost two years of absurd premier leadership around Australia dictated by certified morons hasn't been enough for the populace, Palaszczuk and Miles now take the cake. Worst of all there exist enough likeminded idiots to return those two morons to power at the next elections. Barefaced lies from politicians is clearly the 'new normal'!
Steven Miles denies his government is at fault for the confusion over requirements for PCR tests to cross the Queensland border, despite Premier Annastacia Palaszczuk and government departments asserting that the cost of tests could be borne by travellers. The Queensland Deputy Premier on Wednesday blamed the media and federal government for the confusion, saying it was not up to the Queensland government to clarify the issue.
Source: Charlie Peel, NCA
Steven Miles denies fault for Covid-19 test confusion, as Palaszczuk 'claims victory'
After five days of debate over who would pay for the tests, on Tuesday, Ms Palaszczuk said her government would accept a negative test result in the form of a text message from a testing authority rather than a travel certificate or more substantial text message listing names and a timestamp, which would have cost travellers about $150 each.
It prompted Federal Health Minister Greg Hunt to confirm that existing funding arrangements in place since March 2020, in which both levels of government pay for the tests and text confirmation, would remain in place.
Ms Palaszczuk on Tuesday night attempted to claim "victory" in the matter – a claim shut down by Mr Hunt.
"The only thing that has changed is that after accepting text confirmation for 18 months and then rejecting it for 24 hours, Queensland is now accepting the same text messages again, dropping their demand for a certificate," Mr Hunt said.
"It's time the Premier apologised for the unnecessary stress she has caused to Queenslanders and those planning to travel there."
At a press conference on Wednesday, Mr Miles tried to dismiss the government's about-face as a misunderstanding by the media and could not say why no government minister over the past five days was able to clarify the issue.
"I understood throughout that a test message was going to be sufficient, I understand that's what police have required in the past and will be the case going forward," Mr Miles said.
Asked why the government did not clarify the issue earlier, Mr Miles blamed an "orchestrated campaign to confuse people", apparently from the federal government.
"There was never an announcement from the state government that it would cost people," Mr Miles said.
"We were asked whether people would need the test and we were presented with the argument that in some cases that would cost people money and we said they would still require that test.
"We don't control the testing arrangements in other states".
Mr Miles said the media was at fault for the confusion.
"It wasn't us saying it would cost people," he said.
"You were all reporting stories saying those tests would cost people.
"I'll allow you to reflect on how useful the media reporting has been.
"We called on the Commonwealth to set the record straight."
Asked why it took five days for the government to clarify that a text message would suffice as proof of vaccination, Mr Miles said: "I'm not sure it did."
"These are arrangements that will come into place down the track and we are now able to provide that clarity," Mr Miles said.
Video source: Sky news