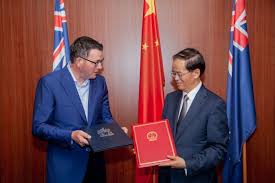 18.09.19.  
Not meaning to be crude but the old adage, "arse about face" is the kindest thing one might say about this story that, "Daniel Andrews will become Australia's highest-paid premier and the second-highest-paid politician after receiving a $46,522 rise from Victoria's remuneration tribunal."
We are a, "Weird Mob" when a socially dangerous dolt like Labor's Daniel Andrews, Premier of Victoria, is the second highest paid state premier at $441,439. There's no disputing that Andrews is a leader. He leads in giving land treaties to… well, to anyone that want one. He leads in black gang violence. He is way ahead in his sellout to communist China,
read here
. Yes, good people that is the, "Arse about face" reward system that Australia offers—go figure! Please God help us because our politicians won't!
More