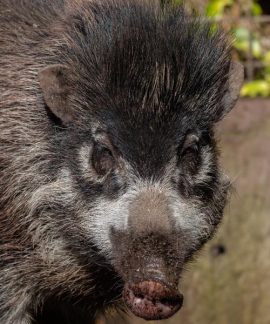 13.12.19.
Oh my goodness me. Just wait until Australia's most famous and knowledgeable Aborigine reads this among the many smoke signals he must get from the ABC tribe every day. It's a numbers problem again. Having been faithfully assured that bruver Bruce Pascoe and his mob of industrious millers and manufactures that have been toiling away on this land for, it has revised upward to 80,000 years, to be told that they could not have been artists, well… not like Bruce's bullartistry, and there is a 36,000 years missing in their story of history?
Sulawesi, Indonesia is where it all happened 44,000 years ago. It's where a tribe of therianthropes depicted themselves chasing and killing warty pigs. And after a barbecue of sweet and sour pork they probably set upon the Pascoe tribe and shoved them off to another land to the south? The image above is of the warty pig, not bruver Pascoe!
A cave painting that has been found on Indonesia's island of Sulawesi, depicting human-like figures hunting animals, appears to be the earliest known pictorial record of storytelling, according to a study by a team of Australian and Indonesian researchers. The painting, found in a limestone cave in 2017, was dated to nearly 44,000 years ago using uranium-series analysis, the researchers said in a study published on Wednesday in the Journal Nature.
More