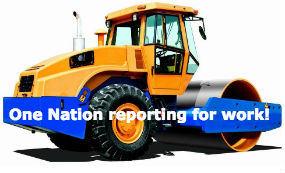 One Nation on the move in Queensland
You gotta laugh! The one Nation detractors say the party has too many problems—they choose the wrong people—look what happened decades ago in Queensland. And they are right. But that was then, lessons have been learned, voters are less susceptible to trash media beat-ups. So stop and think! The Liberal Party, what's left of it, a party in which Mr Turnbull singlehandedly sent conservatives away in droves is in more strife than Speed Gordon—who was he anyway? Labor is in a mess, especially with the Kitching senatorial drop-in, and the Greens have serious internal battles. One Nation with its minor teething problems is more stable than all the majors right now—if you really think about it?
One Nation could target at least 60 seats at the next Queensland election and is already moving to recruit star candidates from Liberal National Party ranks and local government. As One Nation's popularity grows in the wake of its federal election success, party bosses have confirmed they are in discussions with former Newman government MPs in a bid to win a swag of seats and the balance of power in a hung Queensland parliament.
Source: News Corp
One Nation may target 60 seats at next Queensland election
Recent polls have shown soaring support for Pauline Hanson's party across the state with the threat already destabilising the LNP as the party also grapples with the threat of a possible early ­election.
LNP president Gary Spence was yesterday forced to again rule out a demerger between the Liberal and Nationals wings after Attorney-General George Brandis was caught flagging that possibility as a result of One Nation's soaring popularity and the reintroduction of compulsory preferential voting.
Deputy Prime Minister Barnaby Joyce yesterday reminded government colleagues that voters were not interested in "philosophical discussions", as he declared to the party room yesterday there was "no such thing as a safe seat these days".
One Nation's state and national secretary, Jim Savage, told The Australian almost 30 candidates had been endorsed so far and 30 more could be endorsed in coming months.
He ruled out speculation the party had approached sitting LNP MPs but he confirmed there had been talks with some former members who voted out at the last election.
Former Queensland mayors and councillors had also been in talks with the party, Mr Savage said. "We haven't approached any of them. Everyone approaches us. We don't go fishing."
Former MP Neil Symes quit the LNP earlier this year to join One Nation and could run as a candidate.
Senior LNP sources told The Australian last week that others were considering following suit.
Former Thuringowa MP Sam Cox, who has not renewed his LNP membership after the party overlooked his application for preselection, has been named by some as a likely defector but he told The Australian yesterday he had not spoken to One Nation and was not currently considering running for the party.
Mr Savage likened the support for his party to that witnessed before the 1998 Queensland election, when One Nation claimed 11 seats in parliament — six previously held by Labor and five by the then coalition parties.
"The groundswell is quite staggering," Mr Savage said. "I have been in the party for nearly 20 years and the only time we have seen this was in 1998, but the big difference now is we are a lot more sophisticated, we're a lot smarter."
Seats expected to be targeted by One Nation include Cook, Dalrymple, Thuringowa, Burdekin, Mirani, Keppel, Gladstone, Burnett, Callide, Bundaberg, Hervey Bay, Maryborough, Gympie, Nanango, Lockyer, Condamine, Southern Downs, Beaudesert, Albert, Ipswich West, Pumicestone, Glass House, Murrumba, Kallangur and Redcliffe.
Mr Savage said the party would not run in a seat unless it could secure a good candidate.
"In 1998 we had members elected who turned out to be disappointing.
"That's not going to happen again."