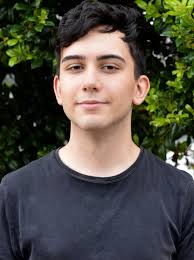 16.05.19.
Oh dear!
The Australian
today is having a smear shot at the Greens with an incident about two years old when a Greens candidate, a queer, let loose on a few Vote-NO campaigners during SSM rubbish. We only run this story because it is indicative of the scandal plagued Greens now trying to get your vote on Saturday. If you are tempted to vote Greens for any reason whatsoever, remember that leader Di Natale has overtly vowed to shut down his detractors like Bolt, Jones and all conservatives he finds offensive. This, "grubby little Tory rag" as Elizabeth Farrelly once called MM in the SMH would be top of Di Natale's list with its Editor, Chaucer, being publicly castrated on the steps of the Sydney Town Hall—ouch!
Damning footage has emerged of a Greens candidate hurling ­expletive-laden insults at Catholic students at the height of the same-sex marriage debate.
Source: News Corp
Greens candidate in vile tirade against Christians
The footage, released yesterday, shows Connor Parissis, the Greens candidate for the south Sydney seat of Barton, screaming "your beliefs are a joke" as students hand out free food and "no-vote" pamphlets at Sydney University.
"Shut the f..k up," Mr Parissis yells in the video. "Go back to church … You know who's a joke? Your f..king beliefs."
Greens candidate and 'queer officer' Connor Parissis, who believes Christian beliefs are a joke and has been recorded as telling Christians that 'I wish I could kick your face in'.
Mr Parissis, 21, describes himself on his candidate website as a "left-wing" and "mental health" activist and boasts of being a "Universi­ty of Sydney queer officer at the forefront of the Safe Schools campaign and the YES campaign for marriage equality".
"Go wank yourself at home, you and your f..king Jesus picture," Mr Parissis is recorded as saying in the video. "I wish I could kick your face in."
Catholic students from the University of Sydney who were the focus of the attack in 2017 told The Australian it left them afraid to express their views on campus. Francis Tamer, who was the president of the Catholic Society at the time, said religious views were now "getting shut down".
Footage of Parissis at the same altercation in 2017 that he claims was filmed and edited by the right-wing media.
"There is a culture among some students at university whereby anything that challenges leftist ­beliefs needs to be suppressed and eradicated," Mr Tamer said. "It's a culture of 'socialism to the death', and anything else that challenges that view is shut down."
Members of the society Marie James, Lucas Di Cicco and ­Gabrielle Isaaks agreed with Mr Tamer that it was a "worrying" time for religious freedom.
Their comments came as Scott Morrison weathered fresh attacks over his religion yesterday.
"It feels like it's a lot harder to express our beliefs in public," Mr Tamer said. "Religious views are being regulated and it's scary for someone like a university student looking to enter the workforce."
Mr Parissis posted a statement on Twitter yesterday claiming footage of the 2017 protest had been edited. "The footage being shared was filmed and edited by right-wing Verum Media, which is now defunct following their suppor­t for Pell," he wrote.
"Vote No campaigners at Sydne­y University had set up a stall without permission, telling passers-by that marriage equality would lead to legalised pedophilia and bestiality."
The Greens candidate was criticised last year for encouraging people to attack Liberal Party offic­es. "Log off and grab a bat and head to ur local liberal office x", he posted on Facebook in August.
During Greek Easter celebrations, Mr Parissis posted an image showing Jesus performing a sexual act, with the caption "I love easter traditions".
He advertises himself as a candidat­e who will fight for youth mental health, refugees and indig­enous rights.
"The people of Barton deserve to hear a left-wing voice, and to make a left-wing choice; not to be restricted to the empty liberal populis­m of the ALP, and the conservativ­e, backward LNP," Mr Parissis said on his website.
A Greens party spokesman ­failed to respond to a request for comment. The Labor Party, whose candidate Linda Burney holds the seat of Barton by 8.3 per cent, also did not respond.