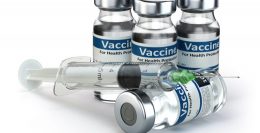 13.01.21.  
The Morrison government was very quick to get hold of the Oxford-AstraZeneca vaccine, 53.8 million doses. Other nations took up with any of the very many vaccines in the great vaccine race. In December there were 64 vaccines in clinical trials on humans with 20 in the final stages of testing. At least 85 preclinical vaccines are still under investigation in animals. However, speed to be the first in a winner-take-all contest when it come to vaccines has its problems as doctors at the coalface are now discovering. Watch the anti-vaxers run with this!
Doctors are calling for a re-evaluation of Australia's vaccine strategy, saying that herd immunity cannot be achieved with the lower-­efficacy Oxford-AstraZeneca ­vaccine, which the Morrison government plans to administer to millions of Australians. Medics and infectious disease experts are calling for Australia to invest in more high-efficacy vaccines, rather than relying on the ­AstraZeneca jab.
Source: Natasha Robinson, News Corp
Vaccine 'not good enough to stop the coronavirus'
Australia has ordered 53.8 million doses of the AstraZeneca vaccine. But trials have showed it has a much lower level of efficacy than the mRNA vaccines produced by Pfizer and Moderna and now being administered in Britain, France, Israel and the US.
Andrew Miller, an anaesthetist and head of the Australian Medical Association in WA, called for the government to halt its plans to begin vaccinating the population with the AstraZeneca vaccine from March.
"We need to pause and look at what the outcomes are going to be before we take any further steps," Dr Miller said. "With the AstraZeneca vaccine, on current data, if we rely on that vaccine we're not going to get to herd immunity. Current expectation is we're going to be able to get back to normal life, but if we don't get herd immunity there's no guarantee that we won't have rolling epidemics.
"Once you have one vaccine, you may not be able to have other ones. That's why it's very important to get it right the first time."
The AstraZeneca vaccine has been shown in trials to have an ­efficacy rate of 62 per cent, determined 14 days after the second dose in a two-dose regimen. Efficacy was 90 per cent in a subgroup of volunteers who by mistake received a half-dose for their first jab in phase 3 clinical trials.
The Pfizer vaccine has an efficacy rate of 95 per cent and Moderna's is 94 per cent.
However, none of these vaccines has been proven to stop transmission of the virus.
Many doctors are angry that the government is not making the Pfizer vaccine immediately available. The Therapeutic Goods Administration is not due to approve the Pfizer vaccine — which will be administered to almost five million healthcare workers and elderly and vulnerable Australians — until late January, despite overseas regulators having granted emergency use authorisations. Israel has already vaccinated about 20 per cent of its population with the Pfizer vaccine.
Medics are also concerned that millions of Australians are in line to receive the lower efficacy AstraZeneca vaccine.
"I feel like Australia is short-changing itself by betting so heavily on the AstraZeneca vaccine," said Michelle Ananda-Rajah, an infectious diseases physician and professor at Monash University.
"I haven't had any clarity from the government as to what the end game here is. In my mind, the end game for Australia is we should be aiming to eliminate COVID-19.
"Here we have the opportunity to do that because we have two highly efficacious vaccines at our disposal, Pfizer and the Moderna, and we have a population that more or less is willing to be vaccinated. Herd immunity is the prize and we should be going for broke.
"So I want the government to step up and pivot, change strategy and procure more of the highly ­efficacious vaccines."
Raina MacIntyre, the head of the biosecurity program at the University of NSW's Kirby Institute, said Australia would not achieve herd immunity if most people in the community received the ordinary dosage regimen of the AstraZeneca vaccine.
"This vaccine is unlikely to be able to achieve herd immunity," Professor MacIntyre said. "You're not going to have enough people immune. Even if everyone's vaccinated, we'll still have the virus circulating because its ­efficacy is not high enough."
Health Minister Greg Hunt ­lashed out at Professor MacIntyre, suggesting her past predictions on coronavirus case numbers and deaths had proved wildly inaccurate. He said there were practical ­issues with the fact the Pfizer vaccine had to be stored at minus 70C.
Benjamin Veness, a psychiatry registrar at a Melbourne hospital, called for a speeding up of the vaccine rollout timetable so border workers and healthcare workers could get vaccinated faster.
"I don't know any healthcare worker who wouldn't take the Pfizer vaccine if it was offered to them today. If someone wants to wait for a full TGA authorisation, that's fine. In the meantime, we should get started," he said.