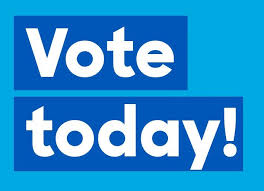 NSW votes today!
Today is your chance to reward or punish those who would and have lead us. The Liberals under Mike Baird lied in our faces about forced amalgamations. They wasted our time and money with meetings and surveys when they had no intention to uphold their promise. Why reward the Liberal Party with your tax money to keep their snouts in the trough and enrich their lifetime pensions—NO, not this time! They must learn!
Labor under the dope Dubious Daley would be unthinkable. Why would you reward deceit and abject incompetence with your money for life—NO BLOODY WAY!
You might be thinking to make a protest and vote Greens. To justify that unthinkable reward you must view the Bolt Report video at the bottom. It once and for all exposes what the Greens leader Di Natale creature and indeed the Greens are all about. They must be put down before they put us down!
That leaves independents, shooters and Fishers and One Nation. A good choice for many readers and commenters on this blog that have vowed not to vote for any major party! Having said that, it's your vote to place where you choose.
Andrew Bolt: Richard Di Natale 'seized' on terror attack to score political points
Jessica Cortis reporting in The Australian
Greens leader Richard Di Natale has been accused of using the Christchurch terror attack to "score political points" after his party claimed the massacre left blood on the government's hands.
In an explosive interview on Sky News' Bolt Report last night, Di Natale defended comments made by his party that conservatives in Australia were "complicit in the horror" of the mosque attack that killed 50 people.
It comes after the Victorian Greens Women's Network told Prime Minister Scott Morrison on Twitter the Christchurch terror attack was "blood on your hands".
"Your government has spent years spreading hateful and racist rhetoric. The blood is on your hands too," the tweet said.
But Sky News host Andrew Bolt bit back, accusing Di Natale of seizing on the terror attack to advance his party.
Bolt reminded him that he had not publicly commented on the Christians killed in a Philippines church this week or the 120 Christians killed in the Nigerian massacres over the past two weeks.
"You have seized on this thing, which is horrible, and you're trying to make political mileage by scoring and smearing people and putting their lives in further danger and I think that's absolutely reprehensible," Mr Bolt said.
He told Mr Di Natale his party's rhetoric may have affected white supremacists and hadn't thought about how they may respond.
"You've attacked politicians who say it's okay to be white, you've pushed identity politics, you've called for a new advisory parliament just for Aborigines … are you complicit as well?" Bolt asked Mr Di Natale.
"You foster division and hatred, that is your business model," retorted Mr Di Natale.
But when asked why Greens members condoned violence by supporting the egging of Senator Fraser Anning, Di Natale replied: "I don't approve of any form of violence but to draw some moral equivalent to the death of 50 innocent people and a member of our parliament being egged … is a scary insight.
"Women don't want to go out at night because they fear for their lives."
Mr Bolt reminded Mr Di Natale that he and Tony Abbott had been attacked on the street by Greens supporters in the past before airing the footage.
"You don't have any conception of how people are being attacked by your kind of people," Mr Bolt said.
"Your hatred is profound and people have seen it right here — and I don't like your allergy to the truth."
View video here.