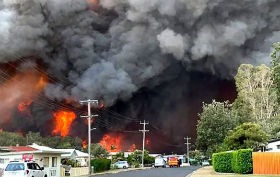 09.11.19.
The NSW Rural Fire Service is in uncharted territory with so many fires in "emergency" status at the same time. During the past 24 hours homes have been lost, more than a thousand firefighters deployed and 70 aircraft. High winds cause enormous heat which can evaporate water before it falls to ground and spot fires from burning embers are starting as far as 12 kilometres down wind, way above the norm. See Video below.
The NSW Rural Fire Service (RFS) is desperately trying to protect properties around the state, with 17 blazes given emergency warning status and 50 burning out of control. RFS commissioner Shane Fitzsimmons said parts of the M1 motorway and the New England Highway were closed and he warned other road closures could leave people trapped.
Source: ABC By Paige Cockburn and Bellinda Kontominas—wearing personal protection gear we hope!
NSW RFS in unprecedented fight to protect homes as 17 blazes given emergency warning status
"You've got to understand a lot of the access roads in and around many of these fires are more dangerous than staying in a shelter or a safer place in your local community or your property," he said.
"The principal message is about sheltering and sheltering in place — it's simply too dangerous and too late to leave."
Mr Fitzsimmons said more than 1,000 firefighters and 70 aircraft had been deployed "to save as many people as possible".
"We cannot emphasise enough the volatility and danger associated with all these fires," he said.
Mr Fitzsimmons also said the energy produced by each fire was influencing the behaviour of those nearby due to their close proximity, and most were spreading at twice the normal pace.
Between Forster, on the mid-north coast, and the Queensland border emergency warnings had been issued for fires at Wandsworth, Torrington, Nymboida, Tyringham, Buckra Bendinni, Willi Willi, the Tapin Tops National Park, the Crowdy Bay National Park, Port Macquarie, Hillville, Muck Creek, Coombes Gap, Bora Ridge and Shannon Vale.
A blaze is also burning at emergency level in the Woodford area of the Blue Mountains and those in the area are advised to seek shelter.
Residents around the bushfires at Hillville and the Crowdy Bay National Park, near Taree, have been advised to leave now or seek shelter as fire fighters and aircraft battle the blazes.
The blaze at Tyringham, west of Coffs Harbour is spreading quickly due to strong and gusty winds.
Residents around a fire at Torrington near Tenterfield have been advised to monitor the situation.
Those in the Nymboida area should leave now towards Grafton if they do not plan to defend their property.
The fires around Port Macquarie have given the entire region an eerie orange tinge, with one resident describing the scene as "apocalyptic".
Hillville resident Derek Eastham's home was spared but the fire completely wiped out his vintage collection of cars.
This was the fourth fire that has closed in on his property in the last week.
"It's devastating … [the cars] were really special to me … I've lost quite a lot of money in them," he said.
Mid-Coast Council Mayor David West said 92,000 people in the major centres of Forster, Crowdy Bay and Harrington were affected.
"I'm looking out of my office window and all I see is what I'm assuming people in London saw during the Second World War — it's a horrible, horrible sight," he said.
"It doesn't seem that we as human beings have anything we can throw at this beast that can control them."
He praised the firefighters battling the blaze, including many being deployed from other parts of the state.
"These guys and ladies are doing this without any fear. They're laying their lives on the line for us — it's unbelievable," Mr West said.
Mr West said his own farm was now within 4 kilometres of a fire burning at Lansdowne.
"We don't have any vegetation but it is incredibly dry, there is no moisture in the air, the wind is ridiculous and we are just being hammered and I guess everyone is fearful from the fallout from the ash," he said.
RFS Commissioner Mr Fitzsimmons said drought conditions meant there was a high fuel load and strong winds were causing embers to spot up to 12 kilometres ahead of the fire fronts.
"Those embers are landing in very dry, highly flammable vegetation and starting new fires very, very easily … so you get this exponential growth of the fire front and acceleration of the fire front moving across the landscape," he said.
"It's a very dynamic, volatile and dangerous set of circumstances we are experiencing across these fire grounds," he said.
'Everything is on fire'
Yesterday, a bushfire came within metres of homes in Forster as terrified residents scrambled to flee.
"Everything is on fire and we're stuck in traffic," one woman was heard saying in a video posted to Facebook.
"The fire has jumped across to Harvey Norman and it's burning everything there … we saw two cars on fire over there."
NSW RFS deputy commissioner Rob Roger said he was concerned about some fires that had been burning for up to two months.
"While we are dealing with some fires near properties, there are a lot of fires that are more remote that have been burning now for a month or six weeks and in some two months," he said.
"Those fires have the potential to keep burning, getting bigger and coming out into populated areas."