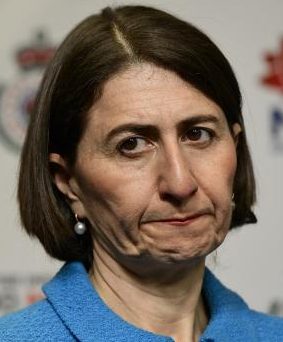 26.03.20.
The cruise ship Ruby Princess, the NSW Port Authority, NSW Health, the Australian Border Force, the Department of Agriculture and indeed the NSW Premier Gladys Berejiklian herself are up to their necks in strife as they send signals throughout the cruise ship industry that docking in NSW is a recipe for administrative disaster. In 2018/19 NSW collected $1.55 billion including $1.54 billion from Sydney alone. Berejiklian has screwed this COVID-19 issue up badly and her health minister Brad Hazzard has gone missing. And maybe forever when he does show up.
The NSW Port Authority was warned of a "gaping hole" in bio­security screening in the weeks ­before the Ruby Princess fiasco, with a leaked email urging officials to conduct more rigorous checking of cruise liners and cargo vessels before the coronavirus pandemic struck.
Source: Yoni Bashan
Coronavirus: Leaked email reveals warning on cruise ships
An email sent by the Maritime Union of Australia to PANSW chief executive Philip Holliday stated that screening measures for unwell passengers and crew arrivals were "woefully inadequate" and urged reforms to address the "failure to implement adequate checks for coronavirus infections" at ports across the country.
PANSW relies on the goodwill of ship masters to declare whether there are illnesses on board.
In a separate email, obtained by The Australian, the authority's general manager wrote to staff this month, saying false declarations by some masters had become increasingly problematic. "The truth is that unless there is an actual consequence that results from a misdeclaration, there is little we can do," the general manager said.
The handling of the Ruby Princess in Sydney Harbour has become a political scandal for the Berejiklian government, which has been under pressure to explain how nearly 2700 passengers were cleared to disembark before COVID-19 testing was completed.
As of Wednesday, 131 confirmed cases had been traced back to the ship, spreading across five states and territories and overseas.
Elle Kelly, a British woman who travelled aboard the Ruby Princess, has been diagnosed with the virus, and now fears her two-year-old son, Vinnie, may also be infected. On Wednesday he developed a "rattling cough" that required an ambulance to be called.
"I am devastated we were not told that we had a suspected case of coronavirus on board. It felt like they were hiding something,'' Ms Kelly said from London.
"The chest pains are unimaginable but, thank god, I'm young."
Initially, questions were asked about how passengers were release­d and who was at fault.
Attention has since turned to a communication breakdown between NSW Health, the Australian Border Force, the Department of Agriculture, the Port Authority of NSW, and other agencies supposed to be working in partnership.
On Wednesday the blame-shifting between these agencies turned up a notch when ABF commissioner Michael Outram read out email correspondence to absolve the ABF of wrongdoing and focus attention back onto NSW Health, which graded the ship as "low risk" ahead of its arrival.
"The decision to allow them off, in relation to the health and biosecurity issue, was one for NSW Health," Mr Outram said.
The press conference was held after The Australian revealed NSW Premier Gladys Berejiklian blamed the ABF for the snafu during a confidential partyroom meeting a day earlier. To end the ensuing fallout, Ms Berejiklian spoke to Mr Outram and Home Affairs Minister Peter Dutton later in the afternoon, during which they agreed to work cooperatively on the issue.
They resolved that any remaining cruise ships would be quarantined, and all passengers held on board until new protocols were established. There are currently eight vessels offshore and three in port awaiting clearance. "No one will be allowed to leave any of these cruise ships until we have settled on the agreed new measures," Ms Berejiklian said.
The ABC reported on Wednesday night that 69-year-old Garry Kirstenfield had died in the intensive care unit in Toowoomba Hospital on Wednesday after contracting COVID-19 on board a Royal Caribbean cruise ship that docked in Sydney last week.
In the email obtained by The Australian, Port Authority chief executive Philip Holliday was warned that screening standards for coronavirus were too lax ahead of the oncoming pandemic. "Undoubtedly, there is a global concern regarding the potential spread of this deadly virus," wrote Paul Garrett, an assistant secretary at the Maritime Union of Australia, who said the problem lay with the requirement for merchant ships to "self-declare" any biosecurity risks.
"Any accurate diagnosis of a virus like the coronavirus is left to medically untrained seafarers as well as ships masters who simply would not be familiar with the symptoms and diagnosis of coronavirus as part of their Medical First Aid on board Ship Certificate."
Contacted on Wednesday, Mr Garrett said the PANSW urgently needed to revise its policies on self-declarations.
"It's a well known secret that foreign (ship) masters don't report ill health in crew members," he said. "They (crew members) hide it, because they're sent home by the ship masters and go off wages. They get sick, and hide their illness."
NSW Labor deputy leader Yasmin Catley described the concerns raised by Mr Garrett as having put "tens of thousands of people at risk".
"The port authority was warned in January that there were inadequate biosecurity and quarantine measures in place to prevent coronavirus entering our ports," she said. "This is a shocking failure of the ports protocol by the NSW government."
Comment was sought from the Premier, NSW Health and NSW Transport Minister Andrew Constance.
Mr Outram said that nine days after the Ruby Princess departed for New Zealand, NSW Health requested details of sick passengers. The following morning, NSW Health was told viral swabs had been collected and that 13 people were in isolation. By that afternoon, he said, NSW Health had convened an expert panel that graded the ship's risk as "low". It therefore did not require any on board health assessments on arrival.