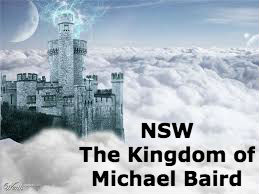 NSW: Premier Baird's political dictatorship must never be forgiven or forgotten
The night before announcing his massive backflip on banning greyhound racing, NSW Premier Mike Baird invited himself over for dinner and a chat at the harbourside apartment of one of his most vocal critics, broadcaster Alan Jones. "I've been arguing the Premier ought to consult, so he rang and asked if he could talk to me," Jones told 7.30.
Chaucer's opinion:
Any listener of Alan Jones' Sydney radio 2GB breakfast show will have heard him railing every day about what an unprecedented political dictator Mike Baird had become. The pages of this blog has numerous postings of Baird's jackboot style of politics. His forced council amalgamations prompted perhaps the largest gatherings of angry citizens around the state ever to be and the legal actions continue. Baird lied to the people.
Baird's lockout laws have all but ruined visitor commerce in Sydney's inner city. His unwarranted banning of the Greyhound industry was based on a cowardly attack on what he thought was an easy target to retrieve his lost authority. Baird was pig-headed on his contrived issues and thus the political damage escalated to where his dogged and defiant path put his premiership, if not his political and commercial worth in serious doubt.
Now, at one minute before midnight, facing political death, he has an epiphany, clearly spurred by fear of humiliation and defeat. He has listened to the people, apologised for the hell he unnecessarily caused so many, we are to believe? Repentant for steadfastly pretending to listen to people, then ignoring them completely, we experienced?
Some commentators, swallowing emotional guff, now laud Mr Baird for "having the guts" to admit he was wrong. It's a wonderful man who will stand and admit his errors. Bullshit! Baird is a cowardly dictator who caused harm to the lives of good people. He now wants the electorate to forgive and forget—it's part of the Aussie ethos—anyone can make a mistake sort of spin. And he is betting on that emotion. The Schmuck he admits to being!
Michael Baird is a political bastard who used his power to rule over the state in the worst dictatorial manner ever witnessed in a democracy. Politicians of such must never be forgiven or forgotten and most certainly never, ever elected to office again. To do otherwise with political masters of that ilk is to get exactly what we deserve. Think about it!
***************************************
Source: ABC
Mike Baird dined with Alan Jones night before greyhound ban backflip
The pair were joined by the state's Family and Services Minister, Brad Hazzard.
It's safe to say the conversation was more memorable that the food, with Jones struggling to recall what was on the menu less than 24 hours earlier.
"I can't remember. Most probably a bit of fish and salad, I think," he said.
But there seems no doubt the message got through.
"I think the premise was that he understands that I get a lot of correspondence and I answer every day, and he basically wanted to know what the people were saying," Jones said.
"Well, I had to tell him I'd just been to Coonamble at the weekend on a fundraiser there … and, you know, the mood out there is very angry.
"I told him what I thought and it was up to him to determine what he was going to do about what I thought."
'You can't walk over people and ignore people'
Jones said that it was apparent Mr Baird knew he had made the wrong call on greyhounds.
"I think he's very aware. He is aware of the hole into which he'd dug himself, and I think this raises very significant questions about the kind of advice he was getting," he said.
"You can overplay this animal welfare thing. At the end of the day there are people here who are being driven to penury and to suicide, and when I explained that to him he understood.
"He just kept saying, I was wrong."
Jones has been firing shots at Mr Baird on his morning radio program over a number of decisions, particularly the greyhound ban, but also lockout laws and council amalgamations.
And he has criticised Mr Baird's management style, variously comparing him to Russian President Vladimir Putin, describing him as Kim Jong Baird, and being pig-headed and a political bully.
"As you are probably aware, I haven't had a lot of conversation with Mr Baird because, though we go back a long way and I've known him a long time and I think we would regard one another as friends, I felt on this and one or two other issues he was way offside with what the public were about and I have to be responsible to my listeners and the general public out there," Jones said.
He denies trying to broker some sort of deal between the media and Mr Baird to reconcile the pro- and anti-greyhound factions.
"I wasn't brokering anything," he said.
"You'd have to be a mug if you hadn't read the polls … you can't walk over people and ignore people."
[email_link]