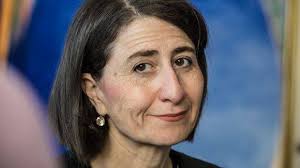 NSW: Liberal Berejiklian prevails
Sheep wear tracks on mountainsides and paddocks on their way to places only a sheep knows. But the beleaguered voters in Australia also leave well worn tracks to the polling booths. The same faces are seen at the same booths doing the same thing with unfathomable ballot papers the size of a beach towel—names and parties completely unknown—all vying for a seat at the taxpayers' smorgasbord of plenty. Local elections, state elections, federal elections, double dissolutions and who can remember how many damned by-elections caused by cooks, cheats, disloyal, etc that quit before term? Millions of dollars wasted. In a few weeks we will have another. Leave your tent still pitched at the polling booth. Your car knows the way!
Gladys Berejiklian is on the brink of retaining majority government as she makes history in becoming the first popularly-elected female NSW Premier but the collapse of the Nationals vote in several rural seats will renew pressure on federal Nationals leader Michael McCormack.
Source: The Weekend Australian
NSW Nationals' vote collapse puts spotlight on McCormack
After retaining Orange and likely stripping the Nationals of Murray and Barwon, the Shooters Fishers and Farmers party will now contest the federal election in a bid to capitalise on rural anger on water issues as the western part of NSW is buffeted by drought.
A jubilant Scott Morrison seized on the Berejiklian victory which comes as he is about to embark on a federal election campaign.
The Prime Minister thanked Ms Berejiklian for being a "great advertisement for the Liberal Party''.
"In another two months we will be back here to celebrate another Liberal National Party win''.
He said Ms Berejiklian had led an "extraordinarily disciplined and courageous campaign''.
He conceded there were major issues confronting rural Australia such as the drought and water issues.
But he said the federal government was addressing it.
"It don't think it's about ideology, I think it is about addressing the issues. You just got to address the issues.''
Federal Liberals will take comfort from the strong performance by the NSW Liberals who look set to limit their losses to the eastern suburbs seat of Coogee, which the Liberals were still not conceding last night.
Ms Berejiklian told cheering supporters shouting four more years, "first and foremost I want to thank the people of this great state for having confidence in me and my government''.
"One of the biggest privileges of my job is to visit the great people of this state and we will continue to govern for all of you,'' Ms Berejiklian said.
She pledged to work closely with the three independents whether or not the Coalition was in majority or minority government declaring them important for stability.
"Tonight is about the people of NSW,'' Ms Berejiklian said.
She said her team would "work its guts out'' to create opportunities for the people of NSW.
Ms Berejiklian said she was proud to be able to say that as she stood there the Liberals had not conceded defeat in one seat.
The Coalition appears to have won 45 seats leaving them two short of a majority but are leading in the seats of East Hills and Upper Hunter.
Lismore also remained a knife edge battle between the Nationals, Labor and the Greens, however Labor was ahead last night in a seesawing contest.
If the Coalition win two of the seats in doubt, Ms Berejiklian will be able to govern in her own right without the need to rely on minor parties.
In the other two undecided seats, the Shooters, Fishers and Farmers party was ahead in Barwon and independent Matthew Dickerson was ahead of the Nationals candidate Dugald Saunders.
The result is a poor one for Labor leader Michael Daley who had a disastrous final week of the campaign after a furore over his remarks on Asian immigration and a brain freeze on the final debate of the campaign where he could not remember key costings of his major policies.
Labor appears to have gained only one seat, that of Coogee and Mr Daley suffered a swing of more than 12 per cent in his own seat of Maroubra. Labor was trailing last night in East Hills, the Coalition's most marginal seat, but was hoping prepoll votes might swing things back its way.
Statewide Labor's primary vote declined almost two points to 32 per cent sparking calls from some powerbrokers including Graham Richardson for his resignation as leader.
Mr Daley's Asian immigration comments appeared to rebound in some seats with high Asian populations. The Liberals gained a swing of 3.9 per cent in Kogarah, and held their vote in East Hills.
The Liberals held the seat Penrith which Labor had high hopes of taking limiting the swing against the government to 4.5 per cent.
Goulburn, which had been targeted by Labor, was comfortably retained with the swing limited to 2.5 per cent.
But in conceding defeat Mr Daley said he had been leader of the Labor Party for only 134 days and wanted to stay on as Opposition Leader.
"I can tell you it's my intention to remain the leader of the Labor Party,'' Mr Daley said.
Mr Daley congratulated Ms Berejiklian but he expressed concern about the continuing decline in the vote of the major parties.
He was appealing "for a better discourse and a better behaved parliament''. He said in opposition, Labor would provide a contest of ideas.