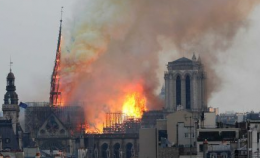 16.04.19.
A major fire has broken out at Paris's famous medieval Notre Dame cathedral, leading firefighters to evacuate the area around one of the city's most visited landmarks. Smoke could be seen billowing from the top of the gothic cathedral, as flames spread from the cathedrals two bell towers toward its giant spire, which has collapsed.
Oh dear, while visiting Notre Dame in my youth, as most Aussies did, an attendant gave me some history, in French. He said the bell ringer was the hunchback Qiasimodo. Excited by Easter he was madly ringing all the bells as loud as he could but slipped and splattered on the pavement far below. A crowd gathered and a gendarme asked a priest who the body was. The priest said, "I don't know his name, but his face rings a bell." I think that was the translation.Source: Reuters
Notre Dame cathedral in Paris engulfed by devastating fire
It was not immediately clear what had caused the fire, which drew crowds of people to gather in nearby squares.
France 2 television reported that police were treating the incident as an accident.
The cathedral, which dates back to the 12th century and is famous for featuring in Victor Hugo's classic novel the Hunchback of Notre Dame, attracts millions of tourists every year.
"A terrible fire is underway at Notre Dame cathedral in Paris," Mayor Anne Hidalgo said on Twitter.
A major operation was under way, the fire department said, while a city hall spokesman said on Twitter that the area was being cleared.
French President Emmanuel Macron has cancelled his planned speech to the nation in light of the "terrible fire" underway at Paris' Notre Dame cathedral, said an official at the president's Elysee office.
The news came as the fire spread towards the giant spire of the cathedral, as crowds gathered in nearby squares
Notre Dame was in the midst of renovations, with some sections under scaffolding, while bronze statues were removed last week for works.