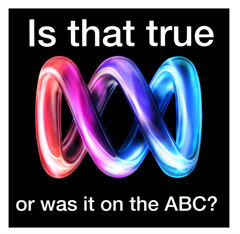 10.11.19.
With the ABC's style of news reporting it is little wonder that the voting populace has a severe attack of apathy. Ever growing numbers of the young, those that could have an interest in politics, say they can't be bothered because they don't know what the truth is so how could they make an informed decision about important matters? Gerard Henderson offers yet another exposure of the public broadcaster stepping up it's anti-conservative mission, all at the taxpayers' expense while arrogantly spitting in our faces! What damned fools we are!
On any empirical analysis, Australia is one of the most stable democracies in the Western world. Moreover, it suffers none of the current political tensions that ­afflict its closest allies, Britain and the US, under the leadership of Boris Johnson and Donald J. Trump respectively. Even so, a degree of hyperbole prevails in the land that an uninformed visitor might regard as a sign of crisis. This is primarily the case in what passes for political debate in contemporary Australia.
Source: Gerard Henderson, News Corp
The Conversation and the ABC demean public debate
Take Monday's Q&A on the ABC, another example of its conservative-free zone. Fran Kelly was in the presenter's chair and there was not one conservative among the all-female panel chosen by the executive producer.
No one dissented when Egyptian-American Mona Eltahawy described the US President as a fas­cist or depicted Australia as a dic­ta­torship. Likewise, there was no objection when panellist Nayuka Gor­rie justified violence on the (alleged) basis that the powers that be were "trying to kill" indigenous Aus­tralians. She concluded this rant with: "So yeah, let's burn stuff."
Yet, the reality is Scott Morrison leads a government with a ­majority of two in the House of Representatives and a minority in the Senate. Then there are the states and territories, the judiciary, an independent police force and so on. These are not the signs of a ­dictatorship.
On November 1 the Prime Minister addressed the Queensland Resources Council in Brisbane. Some media reports drew attention to Morrison's presence in Queensland as a sign that he was intent on holding the seats of Herbert and Longman, which were won in the May election in a state heavily reliant on agriculture and mining along with gas production. That's true.
But it's also true that the Coalition would not be in a majority government without the two seats it won in northern Tasmania, Bass and Braddon. They happen to be areas that have some of the lowest incomes in Australia. In other words, the Coalition's support for mining in this year's election was an important factor in its victory. But not the only factor. Labor failed to connect with its traditional base in many parts of Australia.
Towards the end of his Brisbane speech, Morrison said the ­Coalition was "not interested in closing down the mining industry but building it up". He spoke about mining as a hi-tech industry that created good, high-paying jobs. And he spoke about "a new breed of radical activism" that was "on the march … sneering at wealth-creating and job-creating industries" in the regions.
While acknowledging that "there should always be a place for peaceful protest", he argued that this was not "an unlimited licence to disrupt people's lives" and said there was "no place for economic sabotage dressed up as activism".
Morrison went on to express concern about "the escalating trend towards a new form of secondary boycotts in this country".
Currently, secondary boycotts are banned with respect to trade union activism. This was one of the few industrial relations reforms of Malcolm Fraser's Coalition government four decades ago. When he was minister for business and consumer affairs in the early years of the Fraser government, John Howard introduced legislation banning secondary boycotts.
A secondary boycott applies with respect to a situation where Company A is in dispute with a trade union. The union takes industrial action against Company B, which trades with Company A, to put pressure on Company A to settle with the trade union. Secondary boycotts have been outlawed as a trade union leverage tactic for many years.
However, the legislation provides an exemption concerning environment and consumer groups. They can engage in secondary boycotts by putting pressure on Company B to act against the interests of ­Company A.
There is no logical reason a trade union should be prevented from engaging in a secondary boycott but an environmental activist group is free to do so. As the Prime Minister put it: "Environmental groups are targeting businesses and firms who provide goods and services to firms they don't like, especially in the resources sector." He added that businesses of all sizes are being targeted.
The Prime Minister acknowledged the difficulties of legislating to stop secondary boycotts initiated by environmental and/or consumer groups, but added that he was working with Attorney-General Christian Porter to "identify a ­series of mechanisms" to outlaw such practices.
Also, Morrison recognised that the Australian government "cannot force one Australian company to provide a service to another".
All up, this was a considered speech that raised a real problem without offering a dogmatic immediate solution. Yet it has led to a storm of opposition.
Writing in The Conversation on Tuesday, University of Queensland law professor Graeme Orr criticised the Prime Minister's speech and suggested that it might be mere "kite flying" in an appeal to small businesses.
This was a reasonable critique. The same cannot be said for the howl of outrage that appeared on The Conversation's comments page.
There were references to "Fuhrer Morrison". The Prime Minister also was referred to as a "cunning mongrel". And then there was a sneering reference to Morrison as a "rancid creationist" and he was told "get your head out of your bum".
Now if this were social media it would be par for the course. But The Conversation's editor, Misha Ketchell, takes its comments section seriously, so much so that he has banned anyone he regards as a climate sceptic from taking part in the online journal's discussions.
Yet The Conversation readily runs commentary on its website comparing Australia's democratically elected Prime Minister with the one-time leader of the Nazi Party.
So debate in Australia has come to this. The taxpayer-funded public broadcaster allows a comment to go to air unchallenged that depicts Australia as a dictatorship. And a journal funded by many Australian universities provides the opportunity for Morrison to be compared with Hitler.
Gerard Henderson is executive director of the Sydney Institute.