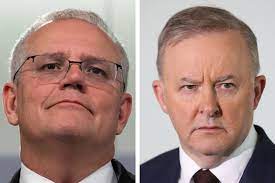 20.09.21.  
Popular support for federal Labor has fallen amid a decline in personal approval for Anthony Albanese, who has slipped to his lowest net satisfaction ratings since becoming Opposition Leader more than two years ago. An exclusive Newspoll conducted for The Australian shows Scott Morrison also losing ground, with his own personal support dropping to its lowest net levels since the 2020 bushfires. The significant falls in satisfaction in the performances of both federal leaders came as voters increasingly looked to park their support with minor parties as lockdowns continue in the two most populous states, NSW and Victoria. The latest poll surveyed voters prior to and following the announcement on Thursday of the nuclear submarine deal as part of a tripartite defence pact between the US, UK and Australia.
Source: Simon Benson, NCA
Scott Morrison and Albanese lose support to minor parties
It shows Labor's primary vote falling two points to 38 per cent, which follows a three-year high of 40 per cent in the ­previous poll that was conducted in late ­August.
The Coalition primary vote rose a point to 37 per cent. This was a slight improvement on the previous poll, which showed support for the Liberal/Nationals at the lowest level since March 2019.'
This three-point turnaround in primary support for the major parties has marginally improved the two-party-preferred contest for the Coalition, which has gone from being behind 46-54 per cent in the previous poll to 47-53 per cent in the latest survey.
There has been no movement in support for the Greens party, which remains on 10 per cent, and Pauline Hanson's One Nation, which has 3 per cent.
Votes for minor parties con­tinued to rise, lifting another point to 12 per cent.
This marks a four-­percentage-point increase in ­support since the beginning of Aug­ust and is consistent with levels of support at the last election.
In the head-to-head contest of who would make the better prime minister, Mr Morrison's lead has reduced to 47-35 per cent, compared with 50-34 per cent in the previous poll – the closest margin between the leaders since March 2020.
Mr Morrison, however, has had to contend with fresh controversy surrounding Christian ­Porter and revelations of a blind trust set up to pay his legal fees for a defamation case against the ABC.
Having recovered ground in the previous poll, Mr Morrison's approval ratings have again fallen, slipping three points to 46 per cent.
His disapproval ratings have risen three points to 50 per cent, resulting in a net negative satisfaction rating of minus four.
This is his worst result since March 2020 but still well above the worst ever result of minus-22 during the height of the bushfire season.
Mr Albanese also suffered a three-point fall to 37 per cent approval, while incurring a one point rise in dissatisfaction to 48 per cent.
His net negative approval ratings of -11 is his worst result since he replaced Bill Shorten as Labor leader in 2019 following the last federal election.