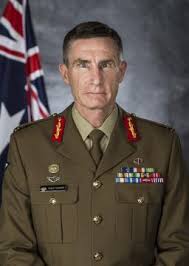 New Chief of Defence, Lieutenant General Angus Campbell
Air Chief Marshal Mark Binskin is a good man but useless as a C of D! The wicked erosion of the ADF continued apace under his watch. Morrison, sex changes, the Muslim spruiker Shindy, etc. Can general Campbell get the ADF back on track and restore pride and purpose or has the PC brigade got it by the throat?
An army officer honoured for his battlefield leadership, who also successfully navigated the halls of power and stopped the asylum-seeker boats, has been handed command of the nation's defence force. Lieutenant General Angus Campbell — a recipient of the Distinguished Service Cross, an Officer of the Order of Australia and the current Chief of Army — will take over the role of Chief of ­Defence in July from Air Chief Marshal Mark Binskin.
Source: News Corp
Battlefield and boats successes set up Campbell for top job
The appointment of Lieutenant General Campbell, 55, a ­former special forces commander who has held an array of roles ­including heading the government's controversial Operation Sovereign Borders taskforce to stop ­asylum-seeker boats, was praised by colleagues, who said he had unique qualifications. Former chief of army Peter Leahy described Lieutenant General Campbell as the complete package while Australian Defence Association director Neil James said his unusual background would stand him in good stead.
However some former officers, who asked not to be named, expressed disappointment that the current Chief of Joint Operations, Vice-Admiral David Johnston, did not get the job, arguing his experience in joint operations command made him the better candidate.
Vice-Admiral Johnston has been announced as the new Vice- Chief of Defence, replacing Vice- Admiral Ray Griggs.
Announcing the appointments yesterday, Malcolm Turnbull said: "The leadership renewal of Australia's Defence Force that we are announcing today will ensure that we have a seamless transition in the uniformed leadership of our forces engaged in complex and dangerous missions in the Middle East and elsewhere around the world."
The Prime Minister said the change came as co-ordination with Australia's allies and partners, along with leadership and the cutting edge of technology, was more important than ever.
"We are undertaking the largest modernisation of the capabilities of the Australian Defence Force in our peacetime history," he said. "It is a massive national enterprise that we are undertaking and that is why we need to have the ­finest minds, the finest leaders at the helm of the Australian ­Defence Force.''
Lieutenant General Campbell, who is married with two adult children, graduated from Duntroon in the 1980s and later served as a troop commander with the Special Air Service Regiment before rising to lead the 2nd Battalion of the Royal Australian Regiment in East Timor in 2001. He left the military in 2005 to work for government and rose to become deputy national security adviser for the Department of Prime Minister and Cabinet.
In 2010 he returned to the military and was promoted in 2011 to lead Joint Task Force 633 overseeing Australian forces deployed in the Middle East.
His most controversial appointment came in 2013 when he was placed in charge of a joint task force called Operation Sovereign Borders — an Abbott government project to halt the arrival of ­asylum-seekers by sea.
The role resulted in him coming under fire from then opposition defence spokesman Stephen Conroy, who in a Senate hearing in 2014 accused him of covering up for the government over the strategic information blackout on Sovereign Borders operations.
Mr Conroy later withdrew after Lieutenant General Campbell said he was extremely offended.
In 2015 he was appointed by the Abbott government to Chief of Army, taking over from Lieutenant General David Morrison.
His tenure as Chief of Army has been without major controversy apart from a decision in 2016 to order an investigation into whether Australian special forces had breached the laws of armed conflict while serving in Afghanistan.
Yesterday, Lieutenant General Campbell said he "deeply appreciated the confidence and trust being displayed and given to me by the Prime Minister and the Defence Minister".
"It's a great privilege and honour to serve," he said. "It is also an extraordinary responsibility to lead and to care for the men and women of the Australian Defence Force and I too acknowledge the continuing service of Air Chief Marshal Binskin in that role and I will do everything I possibly can to build on his legacy and do my very best for the Australian Defence Force and for this great country.''
Asked for his views on China, he said: "We have a very constructive relationship with China and that's all I intend to say."
Other challengers for the CDF position were thought to have been Vice-Admiral Griggs and Vice-Admiral Johnston, both considered well qualified for the role.
Vice-Admiral Griggs had been embroiled in controversy over his decision to leave his wife and start a relationship with a lesser-ranked officer then married to a sailor at the time.
The scenario became the subject of a secret review and an investigation in 2014 by the Inspector-General of the Defence Force. Both the review and the inspector-general's probe cleared him of any impropriety. Asked whether publicity about the incident had played any role in the decision, Mr Turnbull said the best person had been appointed. "There is only one person who can be chief of defence and we have a lot of talent in our Australian Defence Force … my decision has been that Angus Campbell is the best person for this job,'' he said.
The appointment received Labor approval, with a spokesman saying Lieutenant General Campbell had "demonstrated he's a creative and innovative leader of the highest quality who will do a great job of steering our defence force".
Serving and former officers were mostly supportive of the appointment.
However, a senior former navy officer who asked not be named said the job should have gone to Vice-Admiral Johnston because of his experience as Australia's chief of joint operations. "He also has a good relationship with Admiral Harry Harris (the new US ambassador to Australia), which is obviously important in these times,'' said the ­officer.