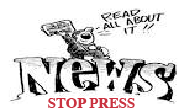 N Korea cancels talks with South Korea and warns US
Note: early reports are mixed. Trump has yet to respond. 06:30 AEST
North Korea has cancelled Wednesday's high-level talks with South Korea because of anger over its joint military exercises with the US. The North's official KCNA news agency said the exercises were a "provocation" and a rehearsal for an invasion.
It also warned the US over the fate of the historic summit between Kim Jong-un and US President Donald Trump that is scheduled for 12 June.
Source: BBC
In March, Mr Trump stunned the world by accepting an invitation to meet Mr Kim.
"We will both try to make it a very special moment for World Peace!" the US leader tweeted at the time.
The US State Department said it was continuing to prepare for the Trump-Kim summit in Singapore and that it was not aware of any changes in the North Korean position.
Some 100 warplanes, including an unspecified number of B-52 bombers and F-15K jets, began the Max Thunder drills on Friday.
The US and South Korea have always insisted such drills are purely for defence purposes, and based out of a mutual defence agreement they signed in 1953.
They also say the exercises are necessary to strengthen their readiness in case of an external attack.
The talks with South Korea that had been scheduled for Wednesday were agreed earlier this week.
They were to take place at Panmunjom, a military compound in the demilitarised zone between the two countries.
Representatives from both countries had planned to discuss follow-up measures on agreements they had made at a rare summit on 27 April.
The North's Kim Jong-un and Moon Jae-in of South Korea agreed to work to rid the peninsula of nuclear weapons following the talks.
They also agreed to push towards turning the armistice that ended the Korean War in 1953 into a peace treaty this year.
Will historic Koreas summit lead to peace?
The Koreas – the basics explained
Other points the leaders agreed in a joint statement were:
An end to "hostile activities" between the two nations
Changing the demilitarised zone (DMZ) that divides the country into a "peace zone" by ceasing propaganda broadcasts
An arms reduction in the region pending the easing of military tension
To push for four-way talks involving the US and China
Organising a reunion of families left divided by the war
Connecting and modernising railways and roads across the border
Further joint participation in sporting events, including this year's Asian Games