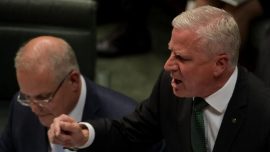 13.09.19.  
Anyone who can still stomach the carry-on in Parliamentary Question Time had a grand spectacle yesterday equal to a barnyard of feral pigs trying to chew each others tales off in a feeding frenzy.
MP Gladys Liu was brought to tears and that idiot for a Deputy PM McCormack screaming across the despatch box in a state of apoplectic, unhinged rage—straight jacket stuff!  During the several minute rage, just an arm's length away was the PM pretending that nothing was awry. He didn't even look up. But it was Morrison that took the day for deceptive spin. In his defence of Gladys Liu Morrison shamed himself by playing the race card to halt Labor's attack. It might have been McCormack's burst of insanity that sent ScoMo off the track? A failed leader under fire, all the same!
Embattled Liberal MP Gladys Liu has been moved to tears by Scott Morrison's defence of her, as the Prime Minister accused Labor of smearing all Chinese-Australians with its attacks.
Ms Liu shed a tear and was passed tissues by other Coalition colleagues as the government stared down attempts to dislodge her over her links to Chinese Communist Party-linked groups.
Source: Richard Ferguson

 and Rosie Lewis, News Corp
Question time brings Gladys Liu to tears
After Labor's legal affairs spokesman Mark Dreyfus asked Mr Morrison if he had received government agency briefings on Ms Liu and her links to China, Mr Morrison said the Labor frontbencher knew he could not answer any questions about ASIO matters and the question was an attempt to air a smear about Ms Liu.
The Prime Minister then doubled down on his latest attack on the Opposition, linking their assault on Ms Liu to Labor's recent woes with the Chinese community, including ex-NSW Labor leader Michael Daley accusing Asian students of taking Sydneysiders' jobs."
"What this member is doing here in seeking a smear a member and I refer to the member for Chisholm, the member for Chisholm who has probably done more than anyone else in this place … to overcome discrimination, to overcome domestic violence, to overcome disability," Mr Morrison said.
"Now the member for Isaacs should take a good hard look at himself and he should have a good hard look at the 1.2 million Australians who will see exactly what he is doing to Australians of Chinese descent.
"Just because someone was born in China doesn't make them disloyal. What the Member for Isaacs is doing a casting a smear on Chinese Australians."