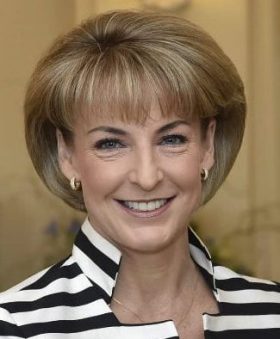 10.06.21.  Michaelia Cash has placed the Religious Discrimination Bill back on the political coffee table. After the faithful expressed frustration with Christian Porter's failure to pass the 2019 election promise, the new Attorney-General has quietly started meeting with church groups. Remember when Scott Morrison said fixing laws that discriminated against LGBTI kids was his top priority? "I will be taking action to ensure amendments are introduced as soon as practicable to make it clear that no student of a non-state school should be expelled on the basis of their sexuality," the Messiah from the Shire preached on October 12, 2018, during the heady days of the Wentworth by-election and Philip Ruddock's review.
Source: Alice Workman, Strewth Editor, News Corp
Freedom isn't free
Cash's department told Senate estimates last month that it had not conducted any consultations since January 2020, well before the pandemic apparently stalled progress on the two exposure drafts and Australian Law Reform Commission's inquiry.
Thoughts and prayers
Freedom for Faith has met with Cash. The Christian legal think tank penned an open letter to federal politicians asking them to "make their position clear to all voters so that they can decide at the ballot box whether we should vote for them". The FFF's board – comprising professor Patrick Parkinson, Queensland Uni; professorMichael Quinlan, Notre Dame; associate professor Neil Foster, Newcastle Uni; lecturer Kim Bailey, Charles Sturt Uni; and Pastor Mark Edwards– has four demands: protection from discrimination on the basis of religious belief or activity; the ability of faith groups to "shape" their membership, leadership and staffing; freedom of speech; and the right "without interference from the government of any state or territory to decide how we pray, who we pray for and for what we pray". The group is organising a Religious Freedom Weekend, from this Friday, where priests will promote the need for new laws before the next election. The Australian Christian Lobby is asking all faiths to get involved, in its social media advertising: "Your help is needed to send a clear message to our leaders in Canberra that this legislation is urgently needed." Be careful what you wish for …
Better the devil
Enter Brother Samael Demo-Gorgon (aka founder and former Sex Party candidate Robin Bristow). As the spiritual leader of the Noosa Temple of Satan – "Australia's fastest-growing religion" – Bristow has signed up the Dark Lord to join FFF's call to prayer. "While we disagree with you on the need for a religious discrimination bill, we think the Religious Freedom Weekend provides a great opportunity for Satanists and Christians to join together in support for religious freedom FOR ALL faiths," Bristow wrote to the FFF. "Unlike you, we'll even go a step further to say that all Australians have a right to freedom FROM religious." Like an interventionist God, Annastacia Palaszczuk recently blocked the Beelzebub believers' request to deliver religious instruction in Queensland, despite a petition supported by parents at four schools. "If religious freedom laws are eventually introduced by the Morrison government, we look forward to sharing with Christians in all the privileges that will be extended to us," Bristow said. "With these laws, Satanists will be able to get on with the job of realising Satan's great plans for the principalities of Noosa, Queensland and Australia." Bristow told Strewth he would be asking all devil worshippers across Australia (including those within Melbourne's 25km ring of fire) to light candles, put out pentagrams and spill some chicken blood to mark the occasion. If chicken blood isn't readily available, Bristow advises beetroot juice would be a suitable substitute.