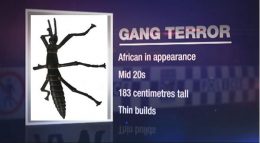 Victoria: an Andrews created war zone in Melbourne?
The lobotomised premier of Victoria Daniel Andrews can pretend all he wants about no black gangs marauding through his streets, bashing, terrorising and now attacking police. Maybe it is time to invoke martial law, send in a crack regiment and sort out these bastards once and for all—then deport all possible such vermin?
Residents of a Melbourne street where dozens of youths of African appearance last night set upon police and hurled rocks at their cars described how they feared for their safety and their children.
Source: News Corp
Gang of youths out of control in Taylors Hill, Melbourne
Police ordered people in ­Bronte Way, Taylors Hill, in Melbourne's west, to lock their doors as they tried to gain control of a group that had gathered at about 7pm in a nearby park.
Projectiles, believed to be rocks, were hurled at officers and a police car was damaged before heavily armed specialist officers were called in.
Taxi drivers were warned on their in-car message boards to avoid the area "due to a riot".
No arrests had been made in the two hours after the violence broke out but police said they had "dispersed" the crowd.
One resident told the Herald Sun that police had told them the youths had gathered for "war".
"I had to wait for (about) seven or eight to move from my driveway when I tried to drive into my garage," a resident said.
Resident Peter Lazaridis told the Herald Sun he saw 30 youths of African appearance congregate at a local park. "I'm shit scared," Mr Lazaridis said
Police had told residents early on that they did not have the incident under control and people should lock themselves inside their homes.
Another resident told the Herald Sun: "In one area there is a massive group the police said were Sudanese and near the park in Bronte Way there was another really large group of Sudanese and they basically said they don't have it under control but there is a strong police presence.
"They told me to stay inside, lock the doors and yeah, it's scary, I've got a nine-year-old and an 11-year-old and they're scared."
One resident told the Herald Sun the youths had gathered for "war". Picture: Jason Edwards
During the rampage, Victoria Police confirmed they were working to bring a group of youths under control in Taylors Hill.
"Police are currently responding to reports that a large group of youths have gathered in the Taylors Hill area," a police spokeswoman said. "A number of projectiles, believed to be rocks, have been thrown and a police ­vehicle has been damaged. No one has been injured.
"Police are currently patrolling the area and monitoring the situation. No arrests have been made at this stage."
Taylors Hill was the scene of a crime spree in January when two teenagers were attacked and two homes were broken into during a four-hour rampage in Melbourne's western suburbs.
In one incident a 17-year-old in Taylors Hill was ambushed and hit with what appeared to be a baseball bat after refusing a demand for his possessions.
He was then dragged along the ground before the offenders fled in a car.
Police were searching for a number of men of African ­appearance after those incidents.