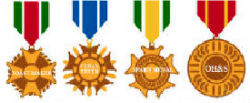 Meet Australia's new war hero!
Morning Mail awards "Gongs for Nongs" to our hero Chrissy Pyne!
What a delicious scoop by Rory Callinan in today's Australian. Defence Minister Christopher Pyne, fittingly disparaged as the 'mincing poodle' has been telling porkies it seems, about his visit to the battlefield of Afghanistan. When you read Mr Callinan's report of the poodle's great daring there is little else to be said except to wait and see if it's a victoria hot-cross-bun or a military spanking with three oak leaves for bullshit.
Defence Minister Christopher Pyne's claims that insurgents had attacked an Australian base and a protected area in the Afghanistan capital of Kabul days before his ­official visit to the city last month have been rejected by military officials in both countries. In a radio interview last week, Mr Pyne described his trip to the "very dangerous war zone" of Kabul and detailed attacks on the Camp Qargha base and in the protected zone in the capital in the lead-up to his arrival.
Source: News Corp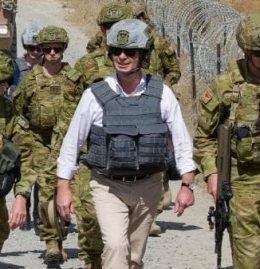 A load of Kabul: Christopher Pyne claim rejected

By RORY CALLINAN
"It's a war zone and it's a very dangerous one. There were eight terrorist attacks in the area around the protected part of Kabul in the 72 hours before I got there," Mr Pyne told Fiveaa radio in Adelaide on October 3.
"Missiles fired at our camp at Camp Qargha on the 19th of September, which thankfully didn't cause any casualties but did a bit of damage."
Military officials contradicted Mr Pyne's claims. Both the NATO-led Resolute Support Mission in Afghanistan and the Australian Defence Force said yesterday there were no attacks on the dates cited by Mr Pyne.
Resolute Support's spokesman, Commander Grant Neeley, said there had not been an attack on Camp Qargha — home for a large contingent of Australians and soldiers from other allied countries — on September 19.
An ADF spokesman said: "Defence has no reports of direct or indirect fire in the vicinity of Camp Qargha on or around September 19, 2018."
The ADF spokesman said there had been one reported instance of "indirect fire" in the immediate vicinity of Qargha on September 11. "No Australian personnel were injured in this incident and appropriate force protection actions were taken at the time,'' he said.
The claim of attacks in the protected zone of Kabul were also not confirmed. Resolute Support press officer Debra Richardson said Resolute Support had no record of any terrorist attacks in Kabul just before September 28.
Sergeant Richardson also said they had no records of any such incident involving "indirect or direct" fire in or around Camp Qargha on September 11.
Mr Pyne yesterday stuck by his claims, saying he had been told of recent terrorist attacks and a strike at Camp Qargha on September 11 and a strike nearby on September 19. "Australia's servicemen and women in Afghanistan are operating in an extremely dangerous environment," he said.
"We cannot be complacent about the risk they face just because they are in training and mentoring roles, and just because we have thankfully not had a death on operations for some time. This was reinforced during my visit from what I saw and what I was told, which included recent terrorist attacks and a strike at Camp Qargha (September 11) and another strike nearby (September 19). As Minister for Defence, one of my roles is to convey to the public the dangerous environment our servicemen and women are in. They deserve our respect and our thanks. I want to ensure that their service to our country is widely understood."
Mr Pyne declined to reveal his source for the information.
The ADF rarely highlights attacks to avoid causing distress to families of soldiers on the bases or to give kudos to insurgents.
Opposition defence spokesman Richard Marles took a swipe at Mr Pyne over the comments. "The trouble with operational details is they can get in the way of a good story," he said.
ADF chief Angus Campbell accompanied Mr Pyne on the trip, which involved meeting troops over dinner on September 28 at Camp Grant, at Kabul inter­national airport. Mr Pyne then had a barbecue lunch with troops at Camp Qargha about 9km to the west of the airport and home to troops from a variety of nations supporting the NATO-led mission. The majority of the approximately 300 ADF members are housed at the base, which is also the site of the Afghan military's officer training academy the Marshal Fahim National Defence University, nicknamed "Duntroon in the desert".
Numerous politicians including prime ministers have visited the camp as have entertainers such as comedians Mick Molloy and Anthony "Lehmo" Lehmann and rock band 28 Days, who performed at the base in 2015.
The base is considered a prime target by insurgents. In January, Islamic State militants attacked soldiers guarding the external walls of the university, resulting in the death of 11 Afghan troops and the handful of attackers.
Last year, a suicide bomber on foot detonated an explosives vest outside the front gate of the academy, killing 15 Afghan officers who were leaving the base.
And in 2014, Camp Qargha was the location of an insider attack by a Taliban-trained Afghan soldier that claimed the life of the highest-ranking US military officer to die in Afghanistan. Following the 2014 attack, security was tightened inside the base.
This would not be the first time a politician has made controversial statements relating to war zone visits.
In 2008, Hillary Clinton claimed she had landed under sniper fire in Bosnia in 1996. She said there was supposed "to have been some kind of greeting ceremony at the airport but instead we just ran with our heads down to get into our vehicles to get to our base". It later emerged the then first lady and her party had been greeted on the tarmac by beaming US and Bosnian officials and an eight-year-old girl who read her a poem in English — a scenario backed up by CBS news footage. She later clarified the situation saying she "misspoke".