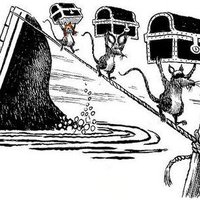 03.12.19.
As the moment of truth draws near, various pollies are set to task, bring in the top negotiators, the ones that can charm and angry lion down from a tree, a skill learned during marriage, some might say. But only a naïve fool would not see the real reason for that creature Kerryn Phelps' motive—open borders. The rats are are jostling to jump PNG with one mighty hop, step and a jump into the heavenly bliss of Centrelink and a lifetime of bludging on the backs of good Australians. Phelps should be made to house and support the rats of her breeding. That Medivac hole must be plugged today and made retroactive!
More than one third of the asylum-seekers and refugees in Papua New Guinea and Nauru have applied for transfer to Australia under controversial medivac laws, with a rush of applications lodged before a parliamentary vote to terminate the scheme.
Source: Joe Kelly and Simon Benson, News Corp
Medivac transfers leap as repeal bid looms
The fate of the medivac regime rests with Tasmanian Senate crossbencher Jacqui Lambie, who has refused to show her hand after making her support conditional on a secret ultimatum she has delivered to the government.
One Nation leader Pauline Hanson has provided Home Affairs Minister Peter Dutton a personal assurance of her party's support after last week delivering the Coalition a shock defeat over its union-busting bill.
With the Coalition hoping to repeal the medivac laws as soon as Tuesday, The Australian can reveal there are 171 people being held offshore who have applied for transfer under the Labor and Greens-backed medivac laws.
As of Monday night, there were 466 asylum-seekers and refugees held offshore — 208 on PNG and 258 on Nauru.
The 171 are at various stages of the approval process, with 63 having lodged more than one application for a medical transfer. In total, there are 234 applications currently being considered for medical transfers — a figure which is greater than half the total number of people being held on Manus and Nauru.
The Australian can also reveal that, in the lead up to the Senate sitting week of November 11, Mr Dutton was forced to consider nearly 100 applications. Forty-seven were considered during the week of November 4, and 51 the following week.
The spike came amid speculation the government could use the Senate-only sitting week in November to put the medivac repeal to a vote, with the number of applications plummeting to just four in the week of November 18 when the Senate was not sitting.
Since the medivac laws were passed in February, 184 people have been transferred to Australia and 418 valid applications have been lodged.
On Monday, Government Senate Leader Mathias Cormann confirmed the repeal bill would be put to a vote and that it would not accept measures that would weaken the border protection ­regime.
"We are very mindful of making sure that we maintain strong border protection arrangements and we don't provide an incentive for the people-smugglers to get boats going again," he said.
"We will not be making any changes to our strong border protection arrangements, and we will not be making any changes to the way we've been dealing with Labor's legacy caseload."
The government is also concerned people complaining of trivial medical issues are being approved by doctors for transfer under the medivac regime.
In one case, a refugee in PNG was approved for transfer because of receding gums, gingivitis and a urinary tract infection.
Labor home affairs spokeswoman Kristina Keneally on Monday criticised the government's push to overturn the laws, saying they were working effectively, and accused Mr Dutton of failing to advance third-country resettlement options, including New Zealand.
The Australian revealed on Monday that more than 20 refugees approved for relocation in the US had instead been flown to Australia under the medivac regime, fuelling concern the laws were undermining third-country resettlement arrangements.
More than 50 people rejected for relocation by the US have come to Australia under the laws.
Scott Morrison has ruled out ­allowing New Zealand to take asylum-seekers from Manus Island and Nauru in return for Senator Lambie's support of the medivac repeal. "Those policies on those matters haven't changed," the Prime Minister said.
Senator Keneally accused the government of disclosing the private details and health conditions of asylum-seekers as part of its push to secure support for the ­repeal. "We have seen the names, backgrounds, ages and ethnicities of asylum-seekers and refugees published in papers," she said. "We have seen their medical conditions misconstrued and exploited for political gain."
Senator Keneally also ­appeared to take aim at Home ­Affairs secretary Mike Pezzullo, and quoted from a directive he ­issued in June 2015 when he was secretary of the then department of immigration and border protection. "Unless there are compelling medical reasons, supported by second opinions, to do with life-and-death situations, or situations involving the risk of lifetime injury or disability, transfers to Australia should be avoided," he had said.
Senator Keneally said the ­directive "effectively stopped medical transfers to Australia", leading to a fall of 92 per cent.