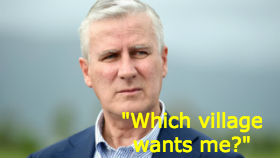 24.01.20.
It will be Pauline Hanson that might be the most pleased when Senator Bridget McKenzie hands in her resignation which many expect will be today. Senator Hanson continually called for McKenzie's resignation over double crossing contents the dairy code  bill. Then all that remains to be done in the National Party is to find another village for the useless idiot McCormack who may yet also find himself under fire over grants.
Michael McCormack's support base in his own partyroom has dwindled to a handful. If Bridget McKenzie is forced out as deputy leader, he loses an ally and faces the likely promotion of David Littleproud and Matt Canavan. At 43, Littleproud is emerging as a favourite to claim McKenzie's job. Canavan, who ran a ruthlessly efficient campaign in regional Queensland and is not afraid to take on the Liberals, would become the party's Senate leader at 39.
Source: Geoff Chambers, News Corp
If Bridget McKenzie is cactus, Michael McCormack is in peril as Nationals leader
The ambitious pairing is seen as the future of the Nationals.
With 21 MPs, Nationals partyroom elections are notoriously unpredictable.
A party insider said while McCormack would have a cabinet pick, his "locked-in" support was tenuous and he would need to tread carefully.
Outside his closest NSW confidants, McKenzie and her ­Victorian colleagues Darren Chester and Damian Drum are not considered to be rusted-on backers.
Inside the Nationals, there are ongoing anxieties that McCormack is "out of touch" and not equipped to combat One Nation and the Shooters and Fishers in regional Australia.
While there is no move on his job — continuing a longstanding tradition of not rolling incumbent Nationals leaders — the loss of McKenzie would leave him ­exposed.
McCormack, who dined with Scott Morrison and Josh Frydenberg at The Lodge on Wednesday night, must avoid perceptions the Liberals are giving the orders.
The public popularity of the Prime Minister and his call for "unity" inside the Coalition gives McCormack cover, but colleagues want him to be more ­assertive and show a bit of ­"mongrel".
If McKenzie goes, McCormack will need to promote strategically. The Queenslanders want greater ministerial representation and he will need to address losing a senior female minister.
Any attempt by McKenzie to dig in is potentially disastrous for the government and Morrison wants the matter resolved before Wednesday, when he delivers his first major speech of the year.
If McKenzie survives, Labor will relentlessly pursue the government when parliament resumes on February 4. The chances of her appearing at estimates hearings, which begin on March 2, are unlikely.
The Victorian senator is personally liked by colleagues but many feel she has become "gaffe-prone".
Once your own MPs begin canvassing your replacement, it's time to go.