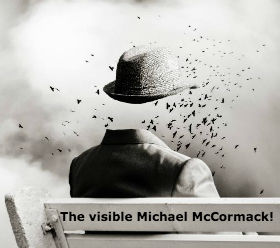 McCormack: the will be deputy PM is no invisible man
You can bet MSM will overlook McCormack's mind set. Apologies never erase bias!
As one Riverina resident remarked about Michael McCormack MP, "you could walk from Wagga to Sydney asking everyone you met, who is Michael McCormack and I doubt a single person would know—he's the invisible man." Although he is Minister for Veterans' Affairs.
Today Mr McCormack, the only declared leadership candidate left standing after his NSW Nationals colleague David Gillespie pulled out yesterday after his pitch to establish a new ministry for reforming the federation failed to win support, will be deputy PM. The Nationals must be very desperate for quality people to replace Barnaby Joyce.
That maybe so, but the arrogant McCormack who treats constituent's letters as a pain in his arse to be ignored is far from being invisible as he might wish and the Nationals have not thought wisely their choice for party leader and deputy prime minister. McCormack has a nasty skeleton rattling in his closet. An inherent bias against queers, a stand that might be popular down at the football barbie. But it is a blood stain on a white shirt for a politician that seeks to represent all Australians as deputy prime minister. McCormack's matter of public record about the LGBTIQ community signifies a fool with extremely poor judgement. His rant is a comprehensive exposé of the man's psyche when he wrote: Unfortunately gays are here and, if the disease their unnatural acts helped spread doesn't wipe out humanity, they're here to stay. The words of a clever statesman?Does it suppose that a person with a national platform with which to promulgate their personal views, so overtly constructed to inflame sentiment against those whom may now marry their same sex partners, blessing by most Australians and indeed Australian law showed good judgement? Add to that the many laws combating discrimination against those he so pilloried in an article written by him as Editor of a Fairfax publication which speaks loudly against temperate wisdom. The Nationals and the Liberal Party don't need a ready target like McCormack in an already beleaguered Coalition led by Mr Turnbull with its sorry 27th consecutive loss in opinion polls. Mr Turnbull is now stuck with the Nat's decision and Michael McCormack could become a lightning rod for the well organised LGBTIQ community which may react to McCormack's writing. McCormack could bring further, if not eternal grief to that man with the renown faecal touch. How delicious can poetic justice be—Barnaby Joyce might thinkt?
****************************************
Source: News Corp, February 14 2018
Homophobic column comes back to haunt Barnaby Joyce's possible replacement Michael McCormack
THE skeletons lurking in Nationals MP Michael McCormack's closet make Barnaby Joyce look like a saint in comparison.
POLITICALLY speaking, it looks like Barnaby Joyce is a dead man walking.
As the fallout from his affair with now-pregnant former staffer Vikki Campion continues — not to mention the scandal surrounding her highly-paid, taxpayer-funded and government-approved roles — pressure is now building to remove Mr Joyce as Deputy Prime Minister.
Meanwhile, the ABC reports Nationals MPs are holding discussions on how to get their party leader to resign and according to the Herald Sun, Veterans' Affairs Minister Michael McCormack has been named as the "overwhelming favourite" to replace him.
But doing so would be a monumental mistake.
Because in 1993, as the editor of Wagga Wagga's Fairfax-owned local paper The Daily Advertiser, Mr McCormack penned a shocking, homophobic tirade that has never been forgotten by many members of the community.
In his column, he demonised the LGBTI community, describing them as "sordid" and "unnatural" and blaming same-sex attracted people for the AIDS epidemic.
"A week never goes by anymore that homosexuals and their sordid behaviour don't become further entrenched in society," he wrote in his vile "from the editor's desk" column.
"Unfortunately gays are here and, if the disease their unnatural acts helped spread doesn't wipe out humanity, they're here to stay.
"How can these people call for rights when they're responsible for the greatest medical dilemma known to man — AIDS."
Over the years, Mr McCormack, who represents the rural NSW electorate of Riverina, has spoken publicly about his controversial piece.
In fact Mr McCormack's column was slammed by ministerial colleague Christopher Pyne as recently as August 2017, because in his role as Small Business Minister, Mr McCormack was in charge of the Australian Bureau of Statistics which managed the marriage equality postal survey.
Mr Pyne said the remarks were "not acceptable" in modern society, and Mr McCormack went on to issue a statement, which read: "I have grown and learnt not only to tolerate, but to accept all people regardless of their sexual orientation or any other trait or feature which makes each of us different and unique.
"I apologised wholeheartedly for the comments at the time and many times since, but I am making this statement to unreservedly apologise again today."
To his credit, Mr McCormack has apologised for his hurtful words on more than one occasion.
But in an age when political careers have ended for far less serious transgressions, how can the National Party even consider appointing someone with a history of hate speech?
When you read Mr McCormack's comments, suddenly, an affair with a staff member pales in comparison.
THE COLUMN:
Dear readers,
"A week never goes by anymore that homosexuals and their sordid behaviour don't become further entrenched in society.
Unfortunately gays are here and, if the disease their unnatural acts helped spread doesn't wipe out humanity, they're here to stay.
On Monday hundreds of thousands of homosexuals marched through Washington in a demonstration intended to show their demands for equal rights and an end to discrimination should no longer be ignored or denied.
How can these people call for rights when they're responsible for the greatest medical dilemma known to man — Acquired Immune Deficiency Syndrome?
AIDS shows no discrimination.
It claims thousands upon thousands of innocent people's lives every year.
On the very night of the homosexuals' march that pompous critic Stuart Littlemore on Media Watch on the Australian Broadcasting Corporation had the gall to criticise various newspaper editors across Australia for "gay bashing".
He ridiculed them for showing some moral backbone and condemning homosexuality.
It's just as well some newspapers are speaking up and acting as watchdogs on moral issues. If it was left up to the likes of Littlemore, heaven knows some of the all-embracing attitudes society would be told it was OK to accept."