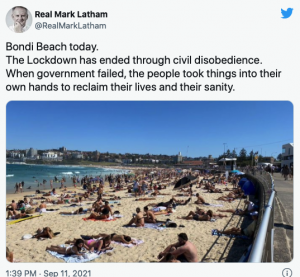 14.09.21.  
In the Southern "Republic of Dobbersnitches", formerly known and respected by all great nations as Australia, the populace is now marshalled and ordered around like kindergarten terrorist by state governments and over zealous police. Using the long proven concentration camp psychology methods of fear and confusing orders has produced a dividend not wanted but always expected—civil disobedience, riots and hatred of police. Generations of police PR trashed by fools at the helm, silly leaders with no experience outside their political bubbles and no common sense. All that and more promulgated during the mandatory 11:am chiding sessions in which pseudo quacks dispense verbal diarrhoea and blame. In NSW that session is known as the "Gladys Hour!" A sparrow with a toucan beak lays down the law for that day—or part of it—before the curfew!
With Gladys Berejiklian entering her John Farnham phrase (a never-ending farewell tour of daily press conferences), it's good to see NSW police are on their toes. 
Source: Alice Workman, Strewth, NCA
Thousands of allegedly locked-down Sydneysiders frolicked at the beaches this weekend as temps soared … scenes that understandably angered those without water in their 5km exercise ring of steel, especially as the NSW Premier shut down any suggestion that public pools might reopen.
Lakemba Labor MP Jihad Dib called it a "classic example of the tale of two cities". How Dickensian. Cut to NSW One Nation leader Mark Latham, who tweeted a snap on Saturday of many maskless sunbakers with the caption: "Bondi Beach today." The member of the state upper house — who lives in southwest Sydney, many kilometres from Maroubra — said "the lockdown has ended through civil disobedience". "When government failed, the people took things into their own hands to reclaim their lives and their sanity," Latham wrote. The call to libertarian arms took off, with 17K likes and counting. It also piqued the interest of Bankstown Labor MP Tania Mihailuk, who asked what Latham was doing in Bondi … a parliamentary field trip, perhaps? Latham replied: "I represent all of NSW. Water not too chilly!!" He went on to suggest the pair should get "busloads of Banky out here" because "they deserve it". Que? The cops were already across Latham's sandy snap when contacted by this paper. (Proving Tony Abbott was way off the mark when he said "I never thought dobbing and snitching was part of the Australian character" after getting a $500 slap on the restrictions wrist.) A NSW police spokeswoman informed us that after making some inquiries, "it appears that it is someone else's photo and (Latham) was not at Bondi Beach". It turns out he was just trolling. Perhaps he could channel some of that WFH energy into creating a socially distanced sequel to the cookbook he co-wrote with Alan Jones in 2018 called Conversations in the Kitchen: Good Food, Great Friends.