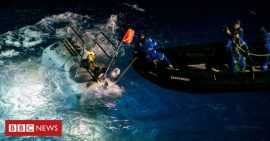 15.05.19. You would need to have enormous confidence in the dive craft designed to withstand the pressure at a depth of 10,000 metres below sea level which equates to 1,000 bars, the equivalent of 50 jumbo jets piled on top of a person. At its core is a 9cm-thick titanium pressure hull, 4.6m-long, 3.7m-high submersible—called the DSV Limiting Factor. The cost of this adventure is not mentioned but data gathered from so deep is supposed to aid various scientists in their research of—in this case, of a plastic bag? This editor confesses to being seasick on Sydney's Manly Ferry last year. Having dumped lunch in the first five minutes of the voyage, to the shock of young mothers and amusement of their kids, I dropped my prawn sandwich with garlic sauce wrapped in a plastic bag overboard. If the plastic bag found on the floor of the Mariana Trench contained a prawn sandwich I can help with global ocean current flows.
Plastic Garbage
"Our waste is finding its way into the planet's most remote environments."
Four new species of crustaceans. Samples of rock from the seafloor. Plastic pollution.
Source: BBC
What Did Deepest Submarine Dive in History Find in Mariana Trench?
That's what American explorer Victor Vescovo found when he descended 11km underwater to the Mariana Trench in the Pacific Ocean—the deepest dive in human history. The plastic Vescovo found at the bottom of the trench is a grim reminder that human refuse is everywhere on the planet.
Vescovo and his team announced they had made the journey to the bottom of the trench on Monday. Along with the dive depth record, Vescovo holds the distinction of being the first person to dive to the trench more than once.
According to the BBC, Vescovo's team collected samples from the sea floor for further study.
The scientists now plan to test the creatures they collected to see if they contain microplastics, a recent study found this was a widespread problem, even for animals living in the deep.
Reaction to Vescovo's accomplishment was tempered by his discovery of the plastics.
"Our waste is finding its way into the planet's most remote environments,"BBC science correspondent Rebecca Morelle said.
The Science Channel listed off all the life found on the sea floor—and plastic.
It's "a travesty that even at our ocean's deepest reaches, humanity's garbage is having an impact," said TV host Rachel Rudwall.