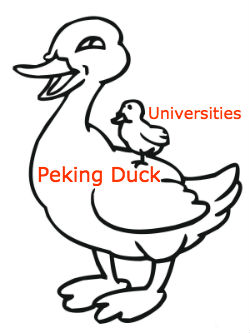 Too many Chinese eggs in one basket
Australian Universities have been riding on the Peking Duck's back for a long time causing a dependence malaise. Not prudently considered by intellectual wizards was China's propensity to punish those who fall foul of their interfering demands. As the ex head of the Department of Foreign Affairs and Trade, Mr Varghese has said Australian universities should look to other sources for students to financially compensate for the loss of Chinese students when China choses to punish Australia for any number of reasons. This is the time when our universities must address their Leftist cant to preserve the international value of Australian university degrees! Tim Dodd, Fairfax's Higher Education Editor sounds the alarm.
University of Queensland chancellor Peter Varghese has urged Australian universities to prepare for a possible Chinese government curb on international students by directing the profits they earn from Chinese students into a ­future fund and not use them for immediate needs. Mr Varghese, who as head of the Department of Foreign Affairs and Trade was Australia's chief diplomat until two years ago, warned that universities would suffer if China decided to use its students as an economic lever against Australia.
Source: Fairfax Media
Universities told to prepare for China's student blockade with fund
Speaking at the National Conference on University Governance in Adelaide, he said universities should also reduce risk by diversifying student source markets, particularly to India and Indonesia.
Nevertheless, Mr Varghese urged universities not to voluntarily restrict the still-buoyant Chinese student market because, in the absence of political factors, Chinese demand was "more likely than not" to remain strong.
"While demand remains high, it makes little sense for Australian universities to turn their back on the revenue stream offered by students from China and elsewhere," he said. "But it would be wise to invest the profit margin for the longer term, not use it for current expenditure. Put it into a future fund or endowment, which would give universities a measure of resilience in the event that the market abruptly shifts for reasons beyond the control of universities."
Mr Varghese would not put a figure on the amount he believed universities needed to put aside. He told The Australian it was a "substantial amount of money across the university sector" but he did not have an estimate of profits earned from Chinese students.
Yiling Wang and Nicky Zhang came to Australia about a year ago to study at the University of Sydney. "I love it here because you feel free," Ms Wang said. "You can feel suffocated (in China)." The 23-year-olds, both studying postgraduate degrees at the university, said Chinese students often struggled to get outside of their cultural bubble.
"Chinese students are occupying the campus," said Ms Wang, a media practice student. She said about 80 per cent of those in her course were Chinese.
"It's hard here," said Ms Zhang, "because a lot of the students are actually Chinese, so I've had to challenge myself and make different friends from Australia."
Ms Wang said: "The (fees) are really expensive but they are worth it. But I think a lot of Chinese students come over here because there is a lower benchmark for overseas students. They (the University of Sydney) really just want to make money."
Ms Zhang, studying public relations, said she would "highly recommend" the university to her friends. "I treasure being here."
Mr Varghese said there was a risk that China could choose, for geopolitical reasons related to growing tension with the US, to reduce the flow of international students to Australia.
Last summer, Chinese government agencies issued two safety warnings about studying in Australia. Some saw it as a political warning to Canberra.
"As a country, we need a much clearer sense of what our red lines are and, importantly, how much economic pain we are prepared to bear if we take positions which protect our national interests but which China sees as cutting across its interests," he said. "This means understanding the risks and putting in place strategies to deal with them, including diversifying the sources of international students and not baking into their operating budgets the revenues which come from international students.
"India and Indonesia will be particularly important in any diversification strategy."
A spokeswoman for the University of Sydney said close to two-thirds of its international students came from China. "As one of Australia's biggest partners in the ­region, we are proud of and acknowledge the contribution that students from China make to the academic and cultural life of the university," she said. "In addition to having increased the number of students we recruit from the US and Canada, we are now looking to further ­diversify the country of origin of our overseas students."
In the first seven months of this year, 39 per cent of international students enrolled in Australian universities were from China. Because they favour high-fee Group of Eight universities, they would account for an even larger proportion of international student revenue.
In his speech, Mr Varghese strongly defended the international education industry, saying it brought major benefits to Australia with $32 billion in annual export earnings, as well as deepening links with regional neighbours, strengthening Australia's soft power and broadening the ­horizons of local students. He also pointed to the major investments China was making in its own universities, which dwarfed Australia's level of public higher education funding.
Vicki Thomson, chief executive of the Group of Eight, said Australian universities were about more than revenue and were not for profit.
But she said: "What Peter Varghese has rightly highlighted — and that we ignore at our peril — is the fact that China's rise is being partly driven by an extraordinary investment in its higher education and research sector."
International Education Association of Australia CEO Phil Honeywood agreed with Mr Varghese's proposal for a future fund.
Additional reporting: Sascha O'Sullivan