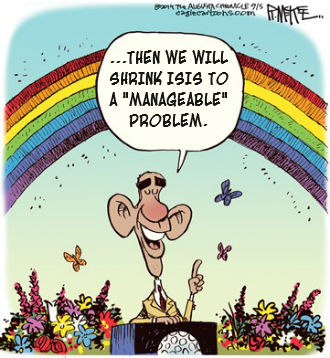 Paradise? For whom?
Exclusive
Bret Harte
The Maldive islands are famous for two things:
Touting themselves as "paradise".
Always on the demand for countries to send them money because 'global warming' will drown them one day.
They may soon be famous for a third thing – the first recognised state where ISIS is the legitimate government.
The Maldives are 100% Muslims, Islam is its official religion; the open practice of any other religion is punishable by law. Its constitution says that non-Muslims cannot become citizens; and no law contrary to any principle of Islam may be applied.
Its citizens are absolutely free to do anything they like; provided it's not against sharia.
Calling it 'paradise' is a bit far-fetched. There are white sandy beaches in Australia too; and there women can go swimming without offending sharia. There are crystal clear waters in the Great Barrier Reef too, and there men can have a beer without being set upon by some mad mullah.
All in all, it's a bit thick to call the Maldives a 'paradise' when in fact it is a recruiting ground for the demented and murderous Muslim slave dealers and thugs called ISIS.
The Maldives former president, Nasheed, considers that up to 200 of its citizens are currently fighting in Iraq and Syria. That is 200 out of a tiny population of 345,000 – and at last count, four of them are now dead.
Right now, there is nothing stopping an Australian citizen going to the Maldives for a holiday and then slipping over to Iraq to cut somebody's throat. As far as the Australian authorities are concerned, his passport is clean, so, perhaps some of the 200 are actually Australians or Americans or…
ISIS is pretty well entrenched in the Maldives and it knows how to deal with opposition.
An investigative journalist in the Maldives who didn't care a lot for ISIS, Ahmed Rilwan Abdulla, was abducted at knifepoint eight months ago and is still missing.
The ex-president, now the leader of the secular opposition party, has of course received death threats; one of them showed his face on a picture of the beheaded American journalist James Foley, with the words, "You will be next."
He says that the police and army are already radicalised and in fact most of the 200 who went to fight in Iraq are army personnel.
The Saudi's are in the Maldives as well, they pay for the mullahs who naturally are anti-ISIS, but are every bit as extremist when it comes to sharia.
It doesn't seem to be working, the black flags of ISIS are flown without any objection.
The Maldives gets one million tourists a year – tourism is their only source of income and if things go on as they are, a prophecy will come true. The ISIS state of the Maldives.
ISIS know all about public relations, they play it low key – no beheading of tourists, no smashing visitor's plonk, they want the money to keep coming – at least until they take over the Treasury.
Halal, oil sheiks,tourism. Think of that the next time you read the glossy brochure orders about the 'Paradise' of the Maldives.