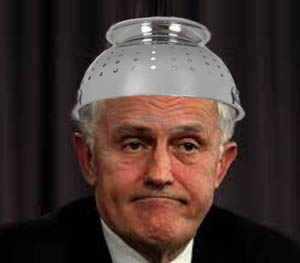 Malcolm in a muddle again
Will the US President Donald Trump swallow this stupidity by the Australian Prime Minister Malcolm Turnbull and write it off as jus one of those things? Or will he write off Malcolm Turnbull as that supercilious jerk down under? Another fake love-in like the last one would make a real fool of Mr Trump. The Leftards are rejoicing.
No one should know better than Malcolm Turnbull that what happens at the Press Gallery dinner — now the Midwinter Ball — does not remain "off the record" for long, no matter what guarantees are given.
Source: News Corp
Trap for even the experienced players when having a ball
The Prime Minister's brilliance has led him into a misjudgment with potentially serious repercussions. Some of his colleagues are concerned and his fate is in the hands of the most unpredictable US President in history. The PM was last night a tweet away from an international incident.
There is a long history of these so-called private speeches to dozens of journalists being leaked, reported and used politically. Most famously, Paul Keating's "Placido Domingo" speech in 1990 was reported as an attack on Bob Hawke and a beginning of Keating's leadership challenge that succeeded months later.
In 2009, Turnbull himself, then opposition leader and involved in a drag-out parliamentary fight over the lending of a ute to Kevin Rudd, was caught haranguing a Rudd staffer about "lies".
The whole attack, including the apparent bullying of a staffer, backfired on Turnbull, and Tony Abbott replaced him within months.
In 2010, Rudd, under pressure over his proposed mining tax and tanking in the polls, threatened mining industry guests at the ball and was then removed within weeks by Julia Gillard.
Gillard, under her own pressure and the threat of imminent removal in 2013, chose the style of the Washington Correspondents Dinner, making all the jokes at her own expense with good humour and grace. Rudd replaced her within weeks.
Turnbull cannot credibly claim that reporting of his mocking of the US President and linking him with a "Russian guy" was dis­appointing and ­unexpected.
The old days of the Press Gallery dinner being a dinner-suited collection of older men drinking port and cigars after a pleasant political speech are long gone.
Laurie Oakes is free and justified to report a speech that has the potential to embarrass the Prime Minister and sour relations with the President.
Turnbull was outraged when leaks of his telephone call with Trump suggested the President had "hung up" on him after angry words. It frustrated Turnbull, and he went out of his way to travel to New York for about 36 hours so that he could stand with Trump on an aircraft carrier to demonstrate they were getting on well.
Turnbull even went out of his way to fend off US media suggestions Trump had insulted him by being late because of the passage of healthcare legislation.
Yet in a calculated, premedi­tated and admittedly funny speech, Turnbull mocked Trump and raised the dark and vexed issue of Russian influence.
The cover story that it was like the White House correspondents dinner is a thin defence, given the White House speech is self-­deprecating and Trump refused to attend this year because he considered it part of the "swamp" and not funny.
For Turnbull, the danger is that his mercurial character and rhetorical brilliance have led him into a grave error of judgment that has been picked up by a delighted anti-Trump media, questioned the sincerity of his relationship and left him hostage to Trump's reaction.