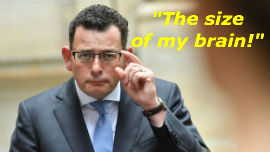 23.02.21.  Nick Tabakoff for News Corp's Diary says Daniel Andrews's hair-trigger approach to locking down Victoria at the slightest provocation may be winning him the Newspoll vote — but on the downside, it's losing him some big-name TV shows. Diary has learnt that some of the country's most prominent productions, most notably Ten's high-rating The Masked Singer and Nine's Australian Ninja Warrior — worth millions of dollars and hundreds of production jobs to the Victorian economy — have quietly abandoned Melbourne. And we've established that a growing part of the networks' thinking in ditching Melbourne is that they're worried about unforeseen financial blowouts, because of the potential for more rolling lockdowns in Victoria.
Source: Nick Tabakoff, News Corp
'Lockdown Dan' Andrews losing TV's big bucks for Melbourne
But the loss for "Lockdown Dan" is arch rival Gladys Berejiklian's gain. Ten's marquee host, Osher Gunsberg, confirms to Diary that The Masked Singer is moving to Sydney in 2021 and he is "excited" by the move after a challenging 2020 season in Melbourne. Meanwhile, Ninja Warrior, hosted by Ben Fordham and Rebecca Maddern, will also be made in the Harbour City, without the need for as much as a single cent of production incentives from Gladys.
Let's get back to the fearless, can-do Aussie spirit
Sources at Nine, Ten and big production houses privately acknowledge the greater certainty provided by Gladys's policy of keeping the economy open as much as possible while managing COVID-19 outbreaks helped Sydney's cause.
Andrews last week threw a bone to Victorians by ending the state's third lockdown after five days.
But it was too late for a weary TV production industry that had a particularly tough time in Melbourne during last year's marathon lockdown.
As one network source puts it: "With many productions unable to get COVID-19 insurance, constant lockdowns can become a significant financial issue."
Departed Endemol Shine boss Carl Fennessy — one of the country's top producers (who incidentally was tight-lipped about his mooted status as a contender for the Nine CEO job) — told Diary that NSW presents obvious advantages.
"If the choice had to be made right now, you'd have far more confidence that NSW would ride out an outbreak than the other states. It's very costly to be pressing pause buttons with expensive productions."
The Masked Singer had a particularly gruelling 2020 experience in Melbourne, with stars like Jackie O, Gunsberg, Urzila Carlson and Dannii Minogue forced to endure many weeks of lockdowns that ultimately risked the entire production.
Diary hears much of The Masked Singer cast spoke up against filming in Melbourne for the 2021 season, with production due to start in July.
Last August, a frustrated Jackie O vented on air during the 2020 season: "My life is f..ked … I can't get out of Melbourne. I am going to be stuck here for the rest of my life."
Meanwhile, Gunsberg missed out on his first Father's Day and his son's first birthday amid Victoria's second lockdown and a COVID outbreak on the show.
When Diary reached him last week, Osher was clearly thrilled to reveal the 2021 production was moving to the Harbour City: "I'm so excited to return to Sydney. Our time in Melbourne was unexpectedly adventurous as it included two weeks of unplanned intense indoor live-streamed cycling due to a COVID quarantine order."
Meanwhile, another Dan lockdown announcement 10 days ago sent big Nine productions, including Ninja Warrior, Married At First Sight and Beauty and the Geek yet again scrambling to change plans with less than 24 hours' notice. Several Melbourne-based contestants and staff on all three shows were rushed into isolation in Sydney to beat the lockdowns. "Ninja and Beauty aren't even being made yet, but we had to get them out for production certainty," a Nine source told Diary.
Sounds like all the financial sweeteners in the world won't lure shows like Ninja Warrior or The Masked Singer back to Melbourne, until Dan learns to live without lockdowns.