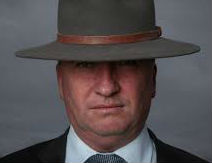 25.07.21.  Conservative party members in a crucial Queensland coal mining seat will stage a formal push against Prime Minister Scott Morrison's creep toward cutting greenhouse gas emissions to net zero by 2050. Branch members in George Christensen's central Queensland seat will use the annual Liberal National Party state convention in Brisbane this weekend to call on the federal government to "oppose net zero emissions if job losses occur for little gain".  Mr Morrison is under pressure from international leaders to commit to a fixed target before the UN Climate Conference in Glasgow this year, but the resurrection of Barnaby Joyce as Nationals leader has put obstacles in his path at home. And, you can just imagine what Barnaby Joyce will be saying at that meeting scheduled for today.
Source: Lynda Lynch and Charlie Peel, News Corp
Rank-and-file break with convention over net zero target
Mr Joyce's return as deputy prime minister came on the back of growing turmoil in the National Party about the net-zero target.
A critic of emission reduction policies during his three years on the backbench, Mr Joyce maintains his party room will ­determine his final view.
"Show us what's on the menu and show us what it costs and we'll decide whether we're going to eat it," Mr Joyce said last week.
Central to the Coalition's "miracle" win at the last election, rank-and-file members in Queensland mining towns fear the transition to renewables will cost regional jobs.
Queensland Nationals Matt Canavan and Keith Pitt have both warned that the impacts of committing to the 2050 target would be felt most in regional communities.
The joint party room is divided on net zero and how to sell it in the regions at the upcoming federal election after Labor's ambiguous position on the Adani mine coal mine was credited for its wipeout in 2019.
Metropolitan Liberals, including North Sydney's Trent Zimmerman, have urged Mr Morrison to commit to the target before the Glasgow conference to ensure Australia does not miss out on new economic opportunities.
Mr Morrison has so far avoided a hard deadline to cut emissions to net zero but he "preferably" wants to achieve the target by 2050. He says Australia will reach its goal through technology, not taxes.
Both party leaders will address the LNP convention on Sunday, Mr Morrison by videolink and Mr Joyce in person.
The state convention will consider 108 policy motions at the weekend, including a separate push from Luke Howarth's Petrie branch for a national plebiscite to overturn the ban on uranium mining and pave the way for nuclear power.