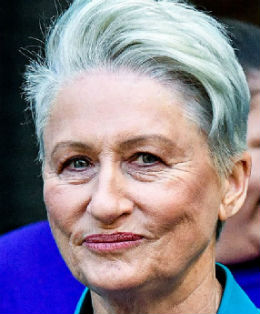 02.12.19.
From the outset, anyone that could read knew there would be disastrous collateral damage to Australia's border control when Dr Kerryn Phelps hatched her Medivac bill in league with Labor and those bloody harmful Greens who believe in an open borders policy. It didn't take long for it to happen and by courtesy of the GetUp supported socialist Phelps we are to feel the sting once more, like the incurable herpes in medical terms, right on the heels of that other lunatic who injected palm oil into his penis and is now in an Australian hospital bed having about $10,000 worth of surgery done at your expense—he will stay in Australia—thank you Ms Phelps who should be made to pay such freight! Test her principles to which she subjected all Australians! NO! Of course not, with socialists it's always extravagance using other people's money!
More than 20 refugees approved for relocation in the US have ­instead been flown to Australia under the medivac regime, fuelling concern that the laws are undermining third-country resettle­ment efforts.
Source: Joe Kelly, News Corp
Medivac law refugees sidestep US transfer
The Australian can also reveal that an Iranian man, found not to be a refugee and who had been charged with property damage after deliberately setting alight an accommodation block in Manus, will be transferred to Australia on health grounds under the Labor-backed medical transfer system.
The man, who has a military background, has been involved in nearly 70 incidents during his time in Manus, which include ­assault and abusive conduct.
He had also liked content on Facebook showing women being executed.
The government hopes to pass legislation to repeal the medivac laws this week but faces the threat of a second major defeat at the hands of a hostile Senate after Pauline Hanson and Jacqui Lambie teamed up to crush its bid to impose tougher rules on unions.
While the government will move to revive its union-busting bill, it is still weighing up whether to put its medivac repeal to a vote, with the fate of the legislation resting with Senator Lambie, whose support has not yet been secured.
Scott Morrison has also opted to delay the introduction of his bill to crack down on religious discrimination amid concern from faith groups that there are problems with key sections of the draft legislation.
The medivac repeal is the government's main priority going into the final sitting week of the year, but other key bills before the parliament include changes to the Farm Household Allowance in response to the drought and new counter-terrorism laws to enforce a presumption against bail and parole for terrorists.
Defence Minister Linda Reynolds said on Sunday the government was "very happy" to continue negotiating with Senator Lambie over the repeal of the medivac laws but lashed Senator Hanson for her last-minute decision to oppose the government's industrial relations shake-up.
"Integrity and honesty in ­negotiations on legislation in the parliament is critically important. It matters a great deal. And I note that Senator Hanson has a lot to answer for to the Australian ­people for the way she behaved last week," she said.
"We are negotiating in good faith with Senator Hanson. Her amendments were adopted and in fact were passed in the Senate before — at the very last second — she changed her mind and crossed the chamber."
Since the medivac laws were passed in February, more than 179 people have been transferred to Australia from Nauru and PNG, including 50 rejected for resettlement by the US under the terms of the 2016 deal struck by Malcolm Turnbull and Barack Obama.
A failure to ram through the repeal this week will clear the way for the transfer of more refugees and asylum-seekers to Australia on health grounds over summer, with the Federal Court finding there is no requirement for them to first speak to doctors.
As of Sunday, there were 213 refugees and asylum-seekers left on PNG and 258 remaining on Nauru. A total of 654 have been resettled in the US.
The laws were passed before the May 18 election by Labor and Greens MPs in defiance of the then minority Coalition government, with Anthony Albanese on Sunday describing as ­"hysterical" suggestions national security was being put at risk.
"The truth is that the government, when these laws were passed, said that it would be the end to secure borders — made all sorts of claims that simply haven't been true," the Opposition Leader said.
Mr Albanese said the government should make greater efforts to finalise third-country resettlement options for those left on PNG and Nauru.
"Yes, some people have been brought to Australia to get healthcare, but the real question is: Why is it that there are still people in offshore detention?
"They should have been ­settled by now in third countries. And the government seems determined to just not provide a real solution to this issue."
Senator Lambie has ­remained tight lipped on negotiations with the government over its repeal legislation, citing "nat­ional security" concerns.
She has also issued a secret "condition" to the government that she says must be met before she offers her backing.
"I have given the government a choice — it can either pick A or B. And that is where we're at," she told the ABC's Insiders. "What I am discussing with the Prime Minister and (Home Affairs) Minister (Peter) Dutton is all in good faith. And I do not want to say or do anything … that may jeopardise those talks."
Senator Lambie said she remained open to supporting the Ensuring Integrity Bill if the government considered her amendment to clean up the Construction Forestry Maritime Mining and Energy Union.
Religious groups welcomed the decision by the government to postpone the introduction of its bill to defend religious freedom, with the Catholic Archbishop of Sydney, Anthony Fisher, indicating he was "pleased that the government has listened to the concerns of people of faith".
Australian Christian Lobby managing director Martyn Iles said the delay would give the government time to finetune some of the key protections it was proposing.