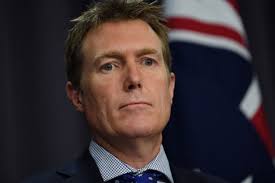 15.09.21.  
Poor Labor. Running which every way in the barnyard mud. "Kristina Keneally will save us," they chorus triumphantly. "Hang on." shouts opposition legal affairs spokesman Mark Dreyfus! "Look over here, we've got Christian Porter in the spotlight over his alleged rape case when he was 17 in 1988 and his defamation shot at our ABC. The bugger has got benefactors paying his legal bills and he won't tell us who they are—this is a bloody "disgrace"! Of course Mark Duffus didn't mention that the ABC is sucking the taxpayer for their legal bills.
A blind trust of secret benefactors will help to pay for Industry Minister Christian Porter's legal fees after his costly defamation battle with the ABC over the airing of rape allegations. Mr Porter declared the blind trust this week in his register of members' interests but will not reveal who the benefactors are as he does not know their identities under the arrangement.
Source: Richard Ferguson, NCA
A blind trust is helping Christian Porter with his legal fees after ABC court fight
The revelations come nearly three months after Mr Porter settled with the ABC over an online article that said a cabinet minister was facing allegations he had raped a 16-year-old girl when he was 17 in 1988.
Mr Porter strenuously denies the allegations and his legal team – consisting of Catholic cardinal George Pell's barrister Bret Walker and defamation lawyer Rebekah Giles – is reported to have cost the Liberal frontbencher up to $1m.
In his register of members' interests, Mr Porter details how he has paid for the legal costs – without taxpayer help – and the workings of the blind trust "although these matters have been conducted in a personal capacity and all legal services were engaged in a purely personal capacity, out of an abundance of caution and consistent with approaches adopted by other parliamentarians in relation to the provision of reduced fee or pro bono legal services," Mr Porter's declaration states.
"Part contribution to the payment of my fees by a blind trust known as the Legal Services Trust. As a potential beneficiary, I have no access to information about the conduct and funding of the trust."
Mr Porter sued the ABC in May, losing his ­attorney-general role over fears court proceedings would create an impression of a conflict of interest for the ­nation's first law officer.
The ABC did not apologise for the article, which remains online, but agreed to add a note that said the broadcaster did not intend to suggest Mr Porter was guilty of the allegations.
Opposition legal affairs spokesman Mark Dreyfus on Tuesday said Mr Porter's blind defence trust was a "disgrace" and demanded he reveal who supported his legal case. "The Australian people need to know who set this trust up, who funded it, how much they donated, and whether they expected to get anything in return for these ­donations," he said.
"If Mr Porter genuinely doesn't know who his donors are, he shouldn't accept their money. Did the money come from criminals? A foreign power? Apparently Mr Porter doesn't care."
A spokesman for Mr Porter said in response to Mr Dreyfus that the minister's declaration was consistent with how MPs have previously disclosed private legal matters in the register.