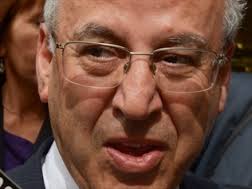 22.10.21.  
They are not wrong, whom ever 'they' are, when they say a fish rots from the head down. That invokes another Labor favourite adage, 'it's only a rort if you're not in it!' Scandal in politics, the degree of which, is only measured by the scoundrel scale when it doesn't directly harm a battler. "Inside" knowledge is fair winnings. Nobody gets physically harmed as dollars stream into the bank accounts of the connivers. Ian McDonald, wasn't he dubbed "Sir Lunchalot" by media for his boozy Friday lunches on the taxpayers? Anyway, Eddie Obeid, the party Godfather is going back to jail.
In the end, not even the pandemic is likely to save Eddie Obeid from jail.
The fallen Labor powerbroker had argued he might not survive imprisonment at 77, too vulnerable to the Covid-19 outbreak sweeping the prison system.
It seemed judge Elizabeth Fullerton was way ahead of him.
Source: Stephen Rice, NCA
Former Labor ministers Eddie Obeid, Ian Macdonald sentenced over mine licence conspiracy
Moments after sentencing the former minister to at least three years and 10 months in jail over a coal exploration licence conspiracy, she ordered Obeid, his son Moses (given a minimum three years) and his former ministerial colleague Ian Macdonald (sentenced to at least five years and three months) to be taken to a ¬regional prison for processing.
There they could be held safely with at least "a guarded level of confidence", she ruled.
Yet once again luck was on Obeid's side, a least for one night. The court was told the three men would not be able to avoid a night in the crowded holding cells at the Sydney Police Centre.
"He risks death if he contracts Covid," Judge Fullerton acknowledged, approving Obeid's release on bail. After which he headed to his Hunters Hill mansion in Sydney's lower north shore for a night in his own bed; his co-conspirators went to the cells.
It was the last plank in the defence of a man once so powerful that he boasted there was "only a 1 per cent chance" he would even be prosecuted.
Jail time never figured into the cosy equation of political power and private enrichment that Obeid had conjured during the decades he effectively ran NSW, despatching premiers and anointing new ones.
Obeid fouled the nest of the NSW Labor Party for years, his shameful reign as kingmaker brought to an end not by any heroic action by the party but by his own greed.
His political career began in the early 1990s when Labor heavyweight Graham Richardson secured him a seat in the NSW Legislative Council, then largely the reserve of party apparatchiks put out to pasture.
Obeid wasn't interested in the low-level perks of the somnambulant upper house chamber. He set out to build power, first by forming "the Terrigals", the powerful right-wing Labor faction named after the parties held at his Terrigal beach house, along the way picking up a loyal lieutenant in Young Labor leader Joe Tripodi.
Under the cover of his new post, Obeid's tentacles stretched through every level of government, building a web of secret business concerns ranging from yachting marinas to Circular Quay cafes; from an interest in Australian Water Holdings to coal licences in the Bylong Valley.
Obeid lobbied other ministers on behalf of the cafes without revealing he was one of the owners.
A lucky early investor in the printing company Offset Alpine, Obeid took a windfall gain when the plant burnt down on Christmas Eve in 1993, with the insurers paying out vastly in excess of the book value.
So confident were the Obeids of their ability to work the system they happily flaunted the proceeds of the $30m that flowed from the crooked coal tender. Eddie bought a $300,000 Mercedes; Moses used his share to help fund a $4m mansion.
Political enemies were quickly removed. When Bob Carr retired as premier in 2005, Obeid switched support from Carl Scully to make Morris Iemma premier. When Iemma resigned in 2008, he was replaced by Nathan Rees.
Rees refused to play ball, resisting Obeid's efforts to have Ian Macdonald made planning ministry. Rees had made himself a dead man walking.
"Should I not be premier by the end of this day, let there be no doubt in the community's mind, no doubt, that any challenger will be a puppet of Eddie Obeid and Joe Tripodi," Rees declared, after a challenge engineered by the two men. By the end of the day, a young Kristina Keneally was premier of NSW.
But the Keneally government suffered a crushing defeat in the 2011 state election, caused in no small part by the stench of corruption that followed Obeid.
Obeid left parliament soon after. When the mine licence deal was brought to the Independent Commission Against Corruption, counsel assisting the inquiry, Geoffrey Watson SC, labelled it as corruption "on a scale unexceeded since the days of the Rum Corps".
The inquiry found Obeid had used inside information from then mining minister Ian Macdonald to do make $30m from coal exploration licences encompassing a large property owned by the Obeids at Mount Penny in the Bylong Valley, NSW. Obeid brushed it off.
"We've done nothing wrong, and this has been just a political witch-hunt to have Labor ex-ministers in the public eye being scandalised and victimised and vilified," he declared.
He dared prosecutors to charge him. Two years later, he was behind bars in Silverwater prison for misconduct in public office over the Circular Quay cafe leases scam, but still claiming the high ground – a political prisoner, according to the "Free Eddie Obeid" campaign mounted by his family, persecuted for his Lebanese heritage.
Obeid served three years of that term, but prosecutors weren't finished with him. On Thursday, the jig was up – or so it seemed. More than 1000 people tuned in on YouTube to watch as the three conspirators were sentenced for their roles in the grant of the Bylong Valley coal exploration licence.
All three men will be back in court on Friday to launch appeals.