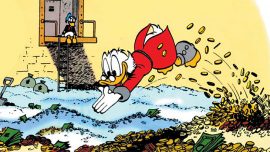 16.04.19. If you think Labor isn't determined to take government its massive $200 billion war chest speaks otherwise. A question that goes begging  is, where did such huge money come from? And first cab off the rank should be every dues paying unionist. In September 2017 Simon Benson in The Australian wrote that, "The nation's largest trade unions have amassed a political war ­machine totalling more than $1.5 billion in assets and a combined income stream estimated at $900 million a year, despite a continuing decline in their membership base. The first comprehensive analysis of union financial records has revealed the real wealth of the Labor Party's industrial wing, now largely funded through "rivers of gold" from superannuation funds and workers' entitlement trusts.
Source: Chris Mitchell, News Corp
Coalition must proves it's in touch with suburban Australian values
The forces ranged against the re-election of the federal Coalition government are immense: Labor, the Greens, GetUp, the trade union movement, a hostile ABC, the Nine-owned Fairfax print media, feral social media, the Coalition's own disunity since 2015, a tame and lame business sector and what Henry Ergas brilliantly called out here on March 14 as a general drift to the Left by voters.
Labor has a $200 billion war chest to buy off the young and unemployed, built from changes to the tax system largely to be paid for by older Australians.
Fairness now means more money for people who don't or won't work and less for those who do. If you are retired and have worked your whole life to accumulate forced savings under Labor's compulsory superannuation system the ALP will have a bit of that too, apparently to be fair to young people who haven't saved a bean.
Elections in this country are always winnable by either side. Think of Coalition leader John Hewson and the unlosable election of 1993.
Just like Labor leader Bill Shorten this year, Hewson was offering enormous change from opposition based on a great big new tax. Keating came from behind to beat him in 1993 and John Howard did the same from months of poor polling in 2001 and 2004.
Morrison is a clear underdog in the betting markets, which is always the best indicator. But his polling improved to 48-52 in last Monday's Newspoll. What he needs is the skill Howard famously said too many politicians now lack: the ability to advocate for a political position.
In politics and media, it is important to know exactly who your target market is. For Labor and the Greens an easy way to think about this is to imagine the committed GetUp member.
GetUp's grassroots success and financial and online clout have dragged Labor towards its agenda and away from the traditional concerns of its working class base.
This is why Labor has been openly threatened by the mining union, the CFMMEU, in the Hunter Valley and central Queensland coal seats over its lack of concern for the jobs of miners.
Think of the three prongs of GetUp's election strategy in 2016 and again this year: climate change and renewable energy, linking corporate taxation and tax deductions for multinationals and wealthy individuals to funding of hospitals and schools and targeting of electorates held by what it calls "hard Right" Coalition members. This agenda has been absorbed by Labor and has given it a lead in polling for almost three years. But it also presents big opportunities to a conservative prime minister in touch with suburban Australian values if he can show the sort of advocacy skills Howard and Keating did.
Many media conservatives have argued the Coalition should reject climate change and leave the Paris agreement. The problem with that is polling shows overwhelmingly that voters believe in climate change and support action to mitigate it.
A better Coalition strategy would be to focus on what is already being done to reduce Australian emissions and the enormous costs of doing more.
It is on the right track criticising Shorten's pledge that half of cars sold here will be electric by 2030.
Morrison should also focus on enormous rises in carbon dioxide emissions in China and India.
China will keep increasing emissions until 2030. Its annual emissions increase exceeds Australia's annual total emissions.
Morrison needs to make voters understand coal is the nation's biggest export and coal prices are rising because of rising demand globally. The government, while not bowing to its Right flank, needs to point out hundreds of new coal-fired power plants are under construction worldwide.
On hospitals and schools the Coalition has been playing a mug's game for six years. Both are state responsibilities and federal funding for both has increased dramatically since Labor's Kevin Rudd lost the 2013 election. And the Coalition has eliminated the budget deficit from next year, something polls show voters like about the latest budget.
This column has argued many Coalition voters in wealthy conservative electorates in Sydney and Melbourne have media habits — especially the ABC and Fairfax — that give them a poor understanding of the truth of such public policy questions. Let's have a look.
SCHOOL FUNDING: Students at private schools do not receive more total government funding than those at public schools, even though many Coalition voters seem to believe GetUp's spin. State schools are largely funded by the states, with direct federal support. Total funding from all levels of government in the state system is $13,023 per child, in the Catholic system $10,956 and in the private system $9036. Parents choosing private education are subsidising those who don't through their taxes and by paying private school fees.
NDIS: Labor under the then responsible minister Bill Shorten did devise the National Disability Insurance Scheme and the legislation to establish it passed with support from Tony Abbott's Coalition in March 2013. But the Gillard government only funded a limited trial, which began on July 1, 2013. The full scheme first rolled out under Turnbull in July 2016.
It was originally expected to cost $13.6bn a year, but the Productivity Commission expects that to blow out to $22bn a year.
The scheme may have teething problems but it was fully funded by the Coalition.
WAGES: Labor's cost of living fairness agenda follows campaigning by the ACTU and GetUp claiming corporate profits are rising and wages are not. In fact, real wages last year rose 2.3 per cent.
This is in a period of historically low inflation and interest rates, so today's young home buyers have a much easier time than boomers who faced 18 per cent home loans in the 1980s. The ABC's Fact Check Unit reported last October that the wage price index rose 32 per cent over the decade to June 2018, while inflation rose 23.4 per cent. Real wages after inflation rose 7 per cent. Labor's complaints about Fair Work Australia's decision to reduce Sunday penalty rates are about an independent umpire set up by Shorten himself.
HEALTH: Just as the states run state schools, they also run hospitals. The only hospitals run by the federal government are veterans hospitals. Total federal and state funding for health rose 6.8 per cent in 2016-17, compared with an average growth rate of 2.6 per cent the previous five years, which included the last half of the Rudd-Gillard years.
As usual, Labor is claiming cuts from notional Labor future commitments, not real cuts at all.
SUPERANNUATION: Labor believes retirees should lose credits for franked dividends if they pay no tax. The franking system was set up by Labor to eliminate double taxation. Labor will allow non-taxpaying trade unions to continue to receive franking credits it is taking from pensioners.
NEGATIVE GEARING: Labor plans to restrict negative gearing to newly built properties. Labor tried removing negative gearing in the mid-1980s but had to axe the change when investors stopped building rental accommodation and rents skyrocketed.
In my view a cap on the number of negatively geared properties is desirable to prevent high-earning surgeons and lawyers avoiding all tax by owning dozens of negatively geared properties. But this applies only to a small percentage of owners. Most own only one or two negatively geared properties and are not high income earners.
Morrison's campaign needs to expose false fairness claims about a country with one of the world's most progressive tax systems, high tax rates by world standards for companies and the wealthy and one of the world's best welfare systems. With more than half of all families paying no net tax after benefits, Labor gambles the constituency that will vote to receive more of other people's money is bigger than the constituency for hard work, aspiration and saving.