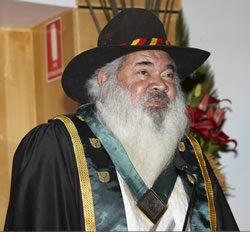 12.08.19.  Labor senator Pat Dodson has ­attacked politicians for failing to secure reconciliation, declaring the nation's leaders are fearful of indigenous people because they did not want to lose the "Anglo-Celtic imprint on this nation".
Very astute of Senator Dodson to notice what is obvious. And why on earth would our forefathers that by their blood, sweat and ingenuity want present day Australians  to obliterate that, "Anglo-Celtic imprint on this nation" so revered internationally and readily enjoyed by all indigenous Australians, black, white or brindle?
Perhaps Mr Dodson might venture a closer look at his image above and being recognised as "The Father of Reconciliation" explain the Indigenous significance of the John Curtin Medalist Award he so humbly accepted? Did the looms of his 100,000-year-old culture spin such trappings and finery? Of course not, it is but just one of the countless benefits of an "Anglo-Celtic imprint on this nation" and to ignore that would surely be hypocritical, would it not Mr Dodson?
Source: Greg Brown, News Corp
Political leaders fear loss of Anglo-Celtic imprint: Pat Dodson
The West Australian senator, who was to be indigenous ­affairs minister had Labor won office on May 18, said he "feared for the spirit of the country", a repeat of a phrase he used in 1997 when he quit the Reconciliation Council.
With Scott Morrison slapping down calls for an indigenous "voice to parliament", Senator Dodson said there was a "lack of growth in the leaders of the ­nation who should know better".
"Why they fear First Nations peoples I don't know," Senator Dodson told The Good Life podcast, which is hosted by Labor MP Andrew Leigh.
Senator Dodson, known as the "father of reconciliation", said political leaders had failed to reconcile with indigenous people, despite doing so with nations Australia had gone to war with, such as Japan after World War II.
"We've found ways to reconcile those relationships and build better relationships with those nations," he said.
"The fear of losing, I think, the quintessence of the Anglo-Celtic imprint on this nation is what makes these people afraid.
"They can be friends with ­people outside of Australia, but when it comes into the internal quarrel, the original theft … and the need to own the truth and find a way forward, (they) constantly leave us short, and we're obviously in the middle of that battle again."
He said the government's ­rejection of the Uluru Statement from the Heart was part of a long history of political leaders failing to be "magnanimous towards First Nations peoples", which was causing Aboriginal people to "lose heart" while also affecting their quality of life.
"So this whole negative impact that happens to First Nations peoples (is) precisely because there's no real reciprocation going on," he said. "An agreement, a treaty, (is) the mature thing we should be doing, rather than ducking from that and pretending that it's going to go away. It won't go away. It will be there in some form when I've passed on."
He said it was wrong to "damage and undermine and belittle people (who have) come from such rich cultural roots".
"Australia has very little to celebrate in its own right, apart from having a democracy that's sustained the test of time for 200 years. But there's not much around that we have that we can take pride in," he said. "We've got to get back to appreciating the other cultures of Australia, not just the Anglo Celtic structure."
Indigenous Australians Minister Ken Wyatt was not available for comment yesterday. Mr Wyatt, Australia's first indigenous cabinet minister, has laid out a three-year timeline for the constitutional recognition of indigenous people. But the Prime Minister has ruled out supporting a constitutional amendment that would require parliament take advice from an indigenous advisory body.
Anthony Albanese last week said a constitutionally enshrined voice to parliament should be a "bedrock" for making practical improvements to the lives of indigenous Australians a reality.