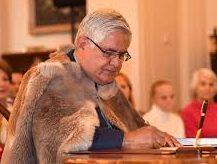 Compulsory reading for patriotic Australians!
01.06.19.
Sky News host Peta Credlin says new Indigenous Affairs Minister Ken Wyatt's suggested approach for recognising Indigenous Australians in the constitution is a 'terrible proposal'. She says Mr Wyatt wants Aboriginal people to have a 'mini-parliament of their own', with a chairman and elected elders, eight from each state and territory, plus ten full-time associate commissioners. She says recognition 'in some way' is important, but the Minister's idea is 'silly'
.
(Credlin, Sky News)
What we have here in the seemingly politically inert 'nice guy' MP Ken Wyatt is is a devious fox dressed as a kangaroo that has been toiling away behind the scene, outside his portfolio, conniving to change our Constitution subjugating and subordinating all things to draconian legislation of Aboriginal control. That wicked stench you now smell is the lack of tanning of the rotting carcase hanging around Wyatt's neck! This beggars belief  and Scomo is in it. Wake up citizens of Australia!
New Indigenous Australians Minister Ken Wyatt has plan for Elder statesmen
RENEE VIELLARIS, Federal Political Editor, The Courier-Mail
May 30, 2019
A POWERFUL taxpayer-funded Indigenous commission run by "elected Elders" would have a say over Federal legislation and launch investigations into departments under secret laws drafted by new Minister Ken Wyatt.
In the first leak of the new Morrison Government, the Indigenous Australians Minister provided Scott Morrison with his plans of a new Indigenous-led bureaucracy that reviews government policies, activates taskforces, probes complaints about agencies from "empowered communities" and informs "itself on any matter in any way it thinks fit".
Mr Wyatt, then aged care minister but angling for the Indigenous Affairs portfolio, sent the draft laws to Mr Morrison on February 14, saying his blueprint "(provides) an overview of a potential way forward to address the issue of constitutional recognition".
Mr Wyatt was yesterday sworn in as Indigenous Australians Minister and is the first Indigenous Australian to hold the portfolio and be elevated to Cabinet.
Timing of the leak was noted by some Coalition insiders, and will today force Mr Wyatt to defend his plan, and the Government's handling of Constitutional Recognition, in his second day in the job. The issue of recognising Indigenous Australians in the Constitution, and the potential for a referendum, has been on the Coalition's agenda since 2015.
Mr Wyatt's proposed solution is not official Government policy, and any movement on constitutional recognition will have to go through party room and Cabinet.
Mr Morrison's office would not comment last night but is understood to be committed to a proper process to a complex issue.
Last night Mr Wyatt said: "We are committed to getting an outcome on recognition, but we need to work together across the aisle and across our communities to get an outcome that all Australians can get behind and we'll take as long as is needed to achieve that".
Under Mr Wyatt's draft Makaratta Commission Act, the commission will provide input into policies that affect indigenous Australians, including employment, justice, health, education, child safety and native title. The draft legislation enables:
● "Maximum participation of Aboriginal and Torres Strait Islander peoples in the formulation and implementation of government polices, programs and services that affect them";
● The investigation of complaints from an "empowered community" or Indigenous organisation over issues not consistent with an agreement made with Commonwealth agencies or businesses, and;
● The holding of public seminars and workshops, and establishment of working groups and taskforces.
The Commission will have a chairman, nine elected elders from every state and territory, plus up to 10 other Associate Makarrata Commissioners. It is likely it will need a large number of support staff. It does not say how the nine Elders will be elected but says the Prime Minister may consult with Cabinet and the chairman on appointing associate commissioners. Their pay will be set by the Remuneration Tribunal and is likely to be well into six figures.
Mr Morrison does not have a firm plan for constitutional recognition.
The plan means the Commission will not be enshrined in the Constitution, which could cause a split within indigenous Australia and the Labor Party, which had pledged at the election to enshrine a "Voice for First Nations people in the Constitution".
More than 250 indigenous leaders met in 2017 at Uluru to provide the then Turnbull government with the Uluru Statement from the Heart. It called for a First Nations voice in the Constitution and a Makarrata Commission to supervise a process of agreement-making and truth telling between governments and indigenous Australians.
The Courier-Mail exclusively revealed in 2017 that the Turnbull Cabinet had emphatically rejected its Referendum Council's plan borne from the Statement from the Heart.
Comments made for the above article:
*Why wasn't this announced prior to the election? An act of dishonesty by the Liberals methinks – who would have thought the honest blue-bloods would do something so sneaky
*I notice the words ' Aboriginal and Torres Strait Islander peoples" Really? I have always regarded them as Australians.  My alarm bells about ScoMo are ringing  loudly.
*He has to be kidding.  At what cost?  Pretty sneaky to only mention this new ridiculously expensive ATSIC after we have given you our vote eh.  Can we re-run the election please?  I'd like to take my vote back.
*Questions: who is going to pay for it? What power will they have over *legislation? How will it be decided who gets 'elected'? Who is able to vote?
*Is this a form of apartheid – a political system where people are clearly divided based on race?
*So you want a separate state within Australia?
Watch Sky News video here.