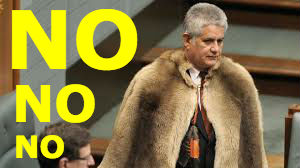 11.07.19.  
Morning Mail had a bit to say about this socially divisive act of secret act of bastardy between the now Minister for Indigenous Australians Ken Wyatt and Scott Morrison in this plot that was arranged in February, BEFORE THE ELECTION!
We described Ken Wyatt as a fox dressed up as a benin kangaroo but a dangerous snake in the grass is more appropriate for his new role. If there is anything that has the capability of tearing this nation apart it is this paragraph:
"The body could be created by legislation without being part of the referendum process that would seek to recognise indigenous Australians in the nation's founding document."  
A must read
here
.
Minister for Indigenous Australians Ken Wyatt will lead a historic push for a referendum in this term of parliament to recognise Aborigines in the Constitution, vowing to put forward a "pragmatic" model that will receive broad public support.
Source: Greg Brown, News Corp
Wyatt presents road map for recognition
Australia's first indigenous cabinet minister yesterday declared he would "walk with people on all sides of politics" to find a consensus model that could achieve the required support of a majority of people in a majority of states for a successful referendum.
In his speech to the National Press Club in Canberra yesterday, the West Australian MP, who was given the ministry by Scott Morrison after the May 18 election victory, also revealed the government would create an indigenous voice to parliament, which would advise government on Aboriginal issues.
The body could be created by legislation without being part of the referendum process that would seek to recognise indigenous Australians in the nation's founding document.
"The world is an oyster in terms of options that we have to ­seriously consider," Mr Wyatt said.
With Labor and indigenous leaders pushing for the voice body to be enshrined in the Constitution, Mr Wyatt warned he would cancel his referendum plans if the final model was too controversial.
He said he would need to navigate the requests of indigenous activists and people who were sceptical of the need for constitutional recognition, including "reticent colleagues" in his own partyroom. "I've got to find common ground," Mr Wyatt said. "And there are diverse views. It is about how do you bring the majority to common ground that is acceptable that we can win a referendum? That is the challenge. And I am up to that and I am prepared to walk with people on all sides of politics and all sides of the community to hear their view and reach a point which we can agree.
"Sometimes we can aspire to an optimum outcome but we also have to accept there is a pragmatic element to constitutional referendums. I would rather us, in the psyche of this nation, have a win on a referendum than have a loss."
Opposition spokeswoman for indigenous Australians Linda Burney said Labor wanted the indig­enous voice enshrined in the Constitution, as recommended by indigenous leaders in the Uluru Statement from the Heart in 2017.
"Labor has been saying clearly that we would like a voice entrenched in the Australian Constitution, and I know that there are many people on the government benches that also believe that," Ms Burney said.
"I think that is ultimately what we would want to see." She acknowledge­d there would be "points of difference and we will have to work through those points of difference". "Bipartisanship is not a race to the bottom," she said.
While leaving the responsibility for treaties between indigenous people and governments with the states, Mr Wyatt said he would ­investigate the establishment of a "truth-telling" agency that would raise awareness of historical ­atrocities committed towards ­Aboriginal people. "History is generally written from a dominant society's point of view and not that of the suppressed and therefore true history is brushed aside, masked, dismissed or destroyed," he said.
Mr Wyatt said he would undertake a period of "co-design" with indigenous communities and ­consult on the best form of ­constitutional recognition. He would also call on corporate Australia to get behind the recognition push. "Constitutional recognition is too important to get wrong, and too important to rush," he said.
"I plan to establish a working group of parliamentary colleagues of all political persuasions to assist me in considering the role of ­engaging on many levels to bring forward a community model."
Indigenous academic Marcia Langton, who has been a vocal supporter of a constitutionally ­enshrined voice, was among the Aboriginal figures who praised Mr Wyatt's commitment to a referendum. "I think that Ken has achieved bipartisanship and nothing at all will be achieved without bipartisanship," she said.
Professor Langton would not say whether Mr Wyatt should put forward a constitutionally enshrined voice in the referendum.
"I don't think we are at the stage where we can answer questions like that yet," she said. "Everything hangs on this co-­design process now. He has committed to that so that indicates to me that he is being utterly genuine and he has achieved more than any other politician because he understands the problems ahead of us."
Ms Burney sounded a note of caution, declaring she was not sure a consensus was possible.
Former prime minister Malcolm Turnbull rejected the voice proposal when it was presented to him by the Referendum Council in 2017. He said the body would become a "third chamber of parliament", a phrase repeated by Mr Morrison early in his leadership.
Mr Wyatt said if the referendum failed, the issue would "gather dust" like the republic. "I don't want to proceed if we don't have the right question," he said.
Indigenous academic Megan Davis, who was on the Referendum Council, said the voice was the "only constitutional model on the table".
Mr Wyatt said he would listen to the concerns of people opposed to constitutional recognition, ­including One Nation leader ­Pauline Hanson, who claimed that she was indigenous because she was born in Australia.***********************************
Andrew Bolt on Ken Wyatt's madness
But speaking of idiocy, can anyone go past what the Morrison Government's new Indigenous Australians Minister, Ken Wyatt, said today?
Australia had to change its constitution, Wyatt brightly announced. He would work to give us this Aboriginal-only advisory parliament — the one demanded by the NRL — because Aborigines around Australia were saying "we need a voice so that we can be heard".
To hear Wyatt say we must finally give Aborigines a voice in politics requires a suspension of eyesight.
You see, Wyatt himself identifies as Aboriginal. What's more, he's a politician, and around him in our national parliament are four other politicians who identify as Aboriginal, plus others who got there with the help of Aboriginal voters.
Wyatt even comes from a state whose Treasurer identifies as Aboriginal.
Is Wyatt not walking and talking evidence that Aborigines already have that voice in politics? That voice is called a vote, and every Australian adult has one.
So don't be fooled. What Wyatt and — it seems — his boss, Prime Minister Scott Morrison, want is more than just a "voice" for Aborigines.
They want an Aboriginal-only parliament that will inevitably give Aborigines more formal political say than any other tribe in the country — Chinese, Muslim, Jewish, Italian, Greek, Sudanese or Sikh.
Under Wyatt's plan, this Aboriginal parliament would discuss legislation that affects Aborigines, but which legislation doesn't? Aren't Aborigines also Australians, affected by everything from defence policies to tax?
And watch out: such an "advisory" parliament is likely to develop an effective veto power over the real one. Until this Aboriginal parliament is consulted, could legislation be passed by the real parliament?
Then will come the backlash. When one "race" of Australians gets handed more power over the rest, other Australians will identify with their own "race" or ethnicity, to defend their interests.
Such race politics is a highway to hell, just when this fractured country needs to limp back to unity instead.
Surely our best hopes lie in judging Australians not by their "race", colour, class, birthplace or gender, but by their character and talents.
So who cares if a mine safety expert is a woman or a man?
Who cares if a rugby superstar is a Christian or a gay?
Who cares if someone in parliament has Aboriginal ancestors or none?
Ask instead whether they're doing a good job. Or whether they've gone mad with identity politics — and power
**********************************
Peta Credlin Sky News on this matter here.