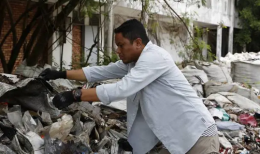 29.05.19.
China stopped accepting Australia's plastic junk about two years ago because the smart-arses here ignored the rules about what could be sent. We sent thousands of tonnes of maggot-riddled crap that can't be recycled—we blew it! Malaysia, wanting to get in on the very lucrative business of melting down certain plastics and turning them into pellets, agreed to take our and other country's crap.  So, being so smart we sent more junk and now they are sending it all back to point of origin. Why shouldn't we make our plastic into pellets if it's so lucrative?
Malaysia has confirmed it would "immediately" ship back to Australia two containers of contaminated domestic waste, including one filled with maggot-infested plastic milk bottles. The country warned that more illegally exported garbage would be returned in coming weeks amid a crackdown on the "uncivilised" smuggling of foreign waste.
Source: News Corp
Return to sender: Malaysia sends rubbish back to Australia
Malaysian Environment Minister Yeo Bee Yin said yesterday the Australian waste was among 450 tonnes of illegal foreign ­plastic identified at just one port in the past month that would be returned to countries including Britain, the US, Canada, Japan, and China.
About 3000 tonnes of plastic waste from 60 containers would be shipped back once fully ­inspected, most at the expense of ­offending Malaysian importers, whom Ms Yeo yesterday labelled "traitors to the country's sustainability"; inspections would continue in ports across the country.
Malaysia did not rule out pursuing export companies for illegal trafficking of waste under the international Basel Convention on transboundary waste movements, to which Australia is a signatory.
"These containers were illegally brought into the country under false declarations and under offences which clearly violate environmental law," she said at a port outside Kuala Lumpur yesterday, where media were invited to inspect seven containers of reeking domestic and e-waste.
Incoming environment minister Sussan Ley promised this week to prioritise the issue of contaminated recycling exports after a series of reports in The Australian revealed that plastic waste from Australia was piling up at private rubbish tips and in villages across Indonesia's East Java province.
Malaysia also said a list of "so-called recycling companies" from each country would also be presented to their respective governments with the expectation that further investigation and action would be taken by their home authorities.
Malaysia began cracking down on the waste trade last year after China's ban on foreign plastic waste imports.
Its crackdown has prompted a rise in shipments into Indonesia, which is now Australia's biggest market for plastic waste.
Australian waste management companies, which are paid by local councils to deal with domestic garbage, sort through and process household and other waste into different categories.
While unrecyclable waste is sent to landfill, which is not cheap, companies sell recyclable materials such as paper and plastics to be treated in countries in Southeast Asia.
Materials in these countries are processed, often informally in villages, where local manufacturing industries and cheaper labour make the purchase of Australian recycling economically viable.
The Malaysian government has now shut down more than 150 unlicensed waste factories ­accused of burning off vast amounts of plastic and dumping contam­inated run-off into local water ­bodies. Earlier this month it sent back five shipping containers of mislabelled waste to Spain.
"We will continue to weed out the importation of contaminated plastic waste and garbage from other countries … now we know that garbage is being traded under the pretext of recycling," Ms Yeo said.
"Malaysians, like any other ­developing countries, have the right to clean air, water, sustainable resources and a clean environment to live in, just like citizens of developed nations.
"That is why we urge developed countries to also review their management of plastic waste and stop shipping garbage to developing countries.
"If they ship to Malaysia, we will return it. We will not be ­bullied by developed nations."
A number of shipping containers of Australian domestic waste, labelled as "processed engineered fuel", were also seized this month by Philippines Customs officials in the southern island of Mindanao, prompting a spokesman for President Rodrigo Duterte to accuse Australia of "offensive" ­behavi­our. National Toxic Networks Australia co-ordinator Jane Bremmer said Australia was now facing a "waste disaster of its own creation" after having neglected waste management for decades.
"We have allowed global waste management corporations to design our waste management systems without the infrastructure and facilities to manage our entire waste stream," she said.