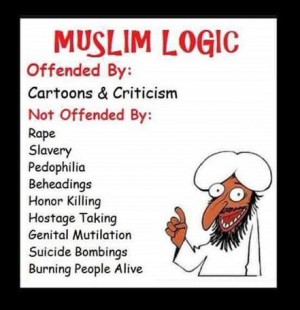 Exclusive
Je suis Charlie Hebdo – my arse!
Damon Runyon


With Robert Spencer, Pamela Geller organized a "Mohammad Cartoon Contest" in Garland, Texas. It was her way to illustrate that in spite of the Charlie Hebdo massacre, she and other Americans would not be intimidated.
Two Muslims, armed with AK47's, dressed in body armour, drove to the venue. As soon as they got out of their vehicle they opened fire, hitting a parking officer in the leg. One off-duty policeman, moonlighting as security, stood his ground and returned fire with his personal pistol. He killed them both.
After that came the denunciations. No, not against the would be murderers. But against Geller.
From all across the left press including The New York Times, came blasts of outrage against Geller for being "provocative" and "asking for trouble."
But Conservatives? They too piled on. Donald Trump, Bill O'Reilly, Bill Donohue of the Catholic League, Don Imus – all those and others want her scalp. (O'Reilly and Donahue – what a pair of pricks they are!)
Geller tried to prove that America is not France, where 11 were murdered by Muslims for printing Mohammad cartoons, nor are they the Netherlands, where Ayaan Hirsi Ali's partner, Director Theo van Gogh was murdered for his documentary Submission, which exposed Islamist mistreatment of women.
Muslims love the reaction of the American media. As Bill Whittle says here; "They can smell the fear!"
And why wouldn't they?
Incident after incident after incident tells us that the US is no ally – and it is not solely the fault of President Bollocks. America is unrecognisable from the America of even 20 years ago. It's very constitution protects free speech yet when two Muslims want to massacre the attendees at the venue they blame the potential victims.
And they would have been victims too, if that brave copper had not put himself in harm's way.
Why does my gut churn over at the thought that if it was done in Australia, we would be just as craven?
Ask yourselves that when Whittle says – while talking about lines and exceptions and buts – "There is no line, there are no buts."