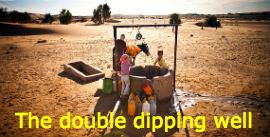 16.04.19.
Section 44 of the Constitution has brought down bigger scofflaws than the socialist's pin-up lesbian MP (for now), Dr Kerryn Phelps. Taking the chapter on moral conduct from the Greens Marxist handbook of governance, observance to Australian law is but a mere inconvenience to be ignored—a trivial matter of no consequence. And they have not been called to account in the past. That can be repaired at the polling station!
Things are warming up in Wentworth where both Phelps and Sharma have asked the Australian Federal Police to re-open an investigation into a volley of "bigoted, racist" and anti-Semitic emails they both say are targeting them. Prhaps the same loons pinching Phelps' posters?
Anyway, Barnaby Joyce has popped up and called on independent NSW MP Kerryn Phelps to drop her bid for re-election after the revelation she has continued to treat patients as a general practitioner In violation of S44?Source: Barnaby Joyce, News Corp
Phelps 'should quit' after alleged breach
The NSW Nationals MP claimed Dr Phelps was in breach of section 44 of the Constitution, which holds that individuals are ineligible to sit as MPs if they receive financial benefits under an agreement with the federal government.
"Are your patients claiming Medicare? The answer is 'yes'," Mr Joyce told The Australian yesterday.
"Is Medicare from the government? Yes it is."
"It may be a pain in the neck, but it's the law."
Dr Phelps won the seat of Wentworth in Sydney's eastern suburbs in October in a by-election created by the resignation of Malcolm Turnbull.
When asked early in her bid for the seat if she would continue to practise, Dr Phelps said she would seek legal advice.
"I satisfied myself by doing my homework before I nominated that I didn't have section 44 issues and that's my position today," Dr Phelps said at the time.
She has repeatedly refused to release legal advice she says clears her of section 44.
Last week, The Australian ­revealed Dr Phelps practises as a GP on Thursday mornings in her Double Bay clinic, and has issued emails seeking new patients.
Dr Phelps has refused repeated requests to be interviewed on the matter.
Her spokesman, Darrin Barnett, yesterday said "there is no section 44 (issue) … she's complied".
"I am not going to answer any questions," Mr Barnett said when asked about whether and how Dr Phelps receives Medicare payments.
Mr Joyce, who fell foul of section 44 as a New Zealand dual ­national and had to recontest his seat in a by-election, said Dr Phelps's claim she had been cleared by legal advice had no currency if she did not release it.
"There is nothing omnipotent about the term 'I have got legal ­advice', I have worked that out the hard way," Mr Joyce said.
He said Dr Phelps should ­reconsider whether she should run for re-election, with nominations closing next week.
"There will be no sympathy for you at all … if you knowingly go into this situation if at fault," he said.
University of NSW constitutional law professor George Williams said whether Dr Phelps had any issues with section 44 would depend on whether she had an agreement with the federal public service under which she ­received taxpayer funds.
"The mere fact she is receiving Medicare benefits, that is not enough in my mind," Professor Williams said.
The question, he said, was whether, such as to receive a provider number, Dr Phelps had to sign some legal document with the government.
"If you do have to actually sign an agreement, and that entitles you to receive money, then you are in the territory of section 44," he said.
Another constitutional lawyer, Sydney University's Anne Twomey, also said the situation of doctors was ambiguous.
"While it is most likely that doctors are not caught by section 44 of the Constitution, some doubts ­remain and the answer may ­depend upon the circumstances of particular doctors and what agreements they may hold," Professor Twomey said.
"The problem is that we don't have enough facts to be sure and nor do we have a particularly clear interpretation … by the High Court."
The Liberal Party has some hope that its unsuccessful ­candidate at the by-election, former diplomat and businessman Dave Sharma, can wrest the seat from Dr Phelps at the general election.
He came within 1850 votes, and had been buffeted by anger among many traditional Liberal voters at the political execution of Mr Turnbull by his own party.
Since the by-election, Mr Sharma has bought a house in the electorate and inserted himself into community issues, including local pro-environment campaigns.