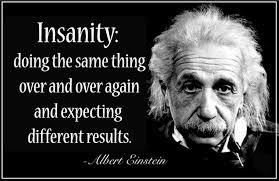 17.05.19.
It's déjà vu—cutting interest rates I mean. Lower Interest rates encourage additional investment spending, which gives the economy a boost in times of slow economic growth, chant the boffins at the Reserve Bank of Australia.
Some years ago the RBA made a series of interest rate cuts—more than six in a row, if memory serves. That's when I leaned about Albert Einstein's theory of insanity. If any pensioner has cash assets, spending it all on porno movies and popcorn might increase their pension payment above the term deposit interest rate—if not their enjoyment of life? Just kidding—about the porno stuff!
Reserve Bank governor Philip Lowe will ram home the central bank's easing bias when he speaks in Brisbane next week, highlighting key themes of rising unemployment and stalled wages growth and setting the scene for an interest rate cut as early as June.
Source: Dow Jones Newswire
Philip Lowe to push RBA easing agenda
His address to the Economic Society of Australia on the economic outlook will fix its gaze on the need for the RBA to see unemployment falling, and the fact that its current set of forecasts anticipate no fall in the jobless rate before the end of next year, despite the forecasts being modelled on the presumption of two cuts.
For those who did not grasp the easing bias when it was first rolled out at the board meeting on May 7, the message of coming interest rate cuts, the first since 2016, will be made crystal clear.
Casting further out, a scenario that has the RBA cutting the official cash rate twice this year, before pausing to ponder more, remains entirely possible.
To be sure, interest rate cuts could well stretch to 100 basis points before the central bank feels confident again that unemployment is headed lower, the labour market is tightening, wages are growing and inflation is at least pointing back towards the 2-3 per cent target, not moving away.
Data this week confirmed the RBA's sneaking suspicion that its luck around jobs growth over recent years might soon run out.
Falling unemployment and strong jobs growth has been a highlight of Lowe's term in the top job, which started in September 2016. But all good things must come to an end.
April employment data yesterday revealed the unemployment rate rose to 5.2 per cent, up from 5.1 per cent in March, in what is beginning to look a lot like that an uptrend in the jobless rate.
Contrast that with Lowe's comment on May 7 that "there was still spare capacity in the economy and that a further improvement in the labour market was likely to be needed for inflation to be consistent with the target".
In other words, brace for cuts.
Minutes of the May 7 policy meeting to be published on Tuesday are likely to plainly state that the outlook is no longer "evenly balanced".
Expect words suggesting a growing need to give the economy a sugar hit.
Wages growth also stalled at 2.3 per cent on-year in the first quarter. The dial on wages has been stuck for nine months, a further indication that the required tightening of the job market the RBA has long waited for is looking less and less likely.
On Monday, National Australia Bank's hiring intentions index moved into negative territory for the first time since 2016. The NAB survey is closely watched by the RBA and the loss of confidence around hiring wasn't missed by policymakers.
There is an argument that says the RBA should remain stoic through the current storm of weak data, holding out for things like income tax cuts mid-year, the potential for variable mortgage interest rates to be lowered as banks respond to falling wholesale funding costs, and perhaps there might be some easing in mortgage lending criteria by the Australian Prudential Regulatory Authority, freeing up some lending.
Combined, these three factors would help lift the economy. But Lowe is unlikely to want to wait for politicians to sign off on fiscal stimulus, while major banks would be more than happy to wait for the RBA to take the lead on cutting interest rates.
The case for a cut in interest rates next month is strong. There seems to be little to stand in its way.