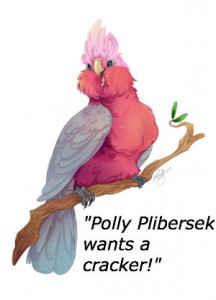 Indonesia/Australia: under "unprecedented strain."
The Federal Opposition says Australia's relationship with Indonesia is under "unprecedented strain" and that the Government must act urgently to repair the damage.
Labor's squawking parrot, Polly Plibersek, is flying around the aviary, bashing into things as she wishes to stir up trouble between Australia and Indonesia, meaning Tony Abbott.
Pretty Polly, while tolling the death knell, failed to mention that Paul Grigson, Australia's ambassador to Indonesia returned to Jakarta on about June 9, five weeks after being withdrawn from the region following the executions of Bali Nine drug smugglers Andrew Chan and Myuran Sukumaran.
Doesn't that sound like business as usual in the behind the scenes world of diplomatic argy-bargy? Polly want a cracker?
Australia's relationship with Indonesia under 'unprecedented strain', Labor says

"Before coming to government, Tony Abbott said that the Australian Government would be more Jakarta and less Geneva," deputy Labor leader Tanya Plibersek told reporters in Sydney.

"In fact, we have seen the relationship under unprecedented strain."

Ms Plibersek's comments were backed by the Opposition's shadow parliamentary secretary for foreign affairs Matt Thistlethwaite.

Australia-Indonesia relations: Key events

2015: Tensions between Australia and Indonesia come to a head when it is alleged Australian officials paid people smugglers to take asylum seekers to Indonesia.
2015: The executions of Australian drug smugglers Andrew Chan and Myuran Sukumaran sparks international outrage. Australia withdraws its ambassador to Indonesia.
2013: Hopes of a renewed relationship following the election of Tony Abbott are quickly dashed when documents obtained by the ABC and Guardian Australia reveal Australian intelligence attempted to listen to then-president Susilo Bambang Yudhoyono's phone calls in 2009.
2011: The Federal Government suspends live cattle exports after a Four Corners episode reveals inhumane slaughter in Indonesian abattoirs.
2006: Australia grants asylum to 42 West Papuan refugees, a decision Indonesia calls "incorrect, unrealistic and unilateral".
2004: Relations are boosted when Australia provides $1 billion in aid and interest-free loans to Indonesia in the wake of the Boxing Day tsunami.
1999: Relations are strained when Australia intervenes in East Timor, helping secure its independence from Indonesia.

He said Australia's relationship with Indonesia was at its "lowest point" in many decades.

"Some of these turnback issues have created tension between our nations and this is a direct result of the policies of the Abbott Government," he told Sky News.

Australian-Indonesian relations were thrust into the spotlight after people smugglers told Indonesian police they had been paid thousands of dollars by Australian officials to turn around a boat carrying 65 asylum seekers which later ran aground on a reef.

The Indonesian foreign ministry has expressed frustration with the lack of answers from the Australian Government about the allegations.

The Government has refused to confirm or deny the reports, citing operational matters and national security.

Prime Minister Tony Abbott spoke about the Government's asylum seeker policy in an address to the New South Wales Liberal conference on Saturday morning.

"Yes, we had to be firm. Yes, we had to be prepared to take some risks. Yes, we had to be prepared to be unpopular, but I tell you what, we had to be prepared to stop the boats and we were," he said.

Mr Abbott went on to point out the Opposition had attacked the Government over reported payments to people smugglers but refused to reveal whether similar payments were made under previous Labor governments.

"On Monday, Mr Shorten attacked us for allegedly doing something to turn around boats," Mr Abbott said.

"It turned out that he had done exactly the same, only it didn't work when they tried to do it because they never turned around a single boat."