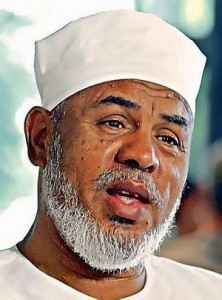 Hypocrite Labor wades into Dutton
Labor MP Tony Burke has skeletons in his closet.
Taj Din al-Hilali, Labor's squalid gift to Australia!
Labor may rue the day that they went after Peter Dutton on what is really par for the course for immigration ministers on both sides of parliament. For example: Taj Din al-Hilali the Islamic idiot that trashed his own mosque and tried to blame infidels was caught on his own security system. Chris Hurford, immigration minister in the Hawke Labor government, tried in 1986 to have him deported after he overstayed a tourist visa in 1982 and settled in Sydney. Hilali had two powerful Labor friend that sniffed votes—Paul Keating and Leo McLeay who arranged for permanent residency. Keating and McLeay said Hilali should stay and lobbied on his behalf. Labor should shut up!
Source: News Corp
Labor MP Tony Burke sought visa for hate preacher
Senior Labor frontbencher Tony Burke personally lobbied the government in support of a ­business visa for an Islamic ­extremist and hate preacher who advocated the ­execution of homo­sexuals and subjugation of women, but was later denied entry to Australia.
Mr Burke, a former immigration minister, made personal representations on behalf of ­Mohammed Rateb Abdalah Ali al-Nabulsi, whom Australian intelligence officials had declared a hate preacher and whose views on women in particular, an internal report claimed, would be "abhorrent" to most Australians.
The Australian has confirmed Mr Burke, the member for Watson in southwestern Sydney, wrote to the Australian embassy in Amman, Jordan, on July 21 last year claiming to be acting on behalf of The Voice of Islam radio station, which had invited Mr Nabulsi, a Syrian, to Australia as a guest speaker at a charity event and to do talkback radio shows.
It is understood Mr Burke's ­office had called Immigration to inquire about the status of the man's visa application before writing to the department.
Mr Burke's intervention came ahead of a Labor and Greens- backed Senate inquiry into the so-called au pair scandal embroiling Home Affairs Minister Peter Dutton, which today will hear evidence from AFL chief Gillon McLachlan and Home Affairs secretary Michael Pezzullo.
Try watching this video on www.youtube.com, or enable JavaScript if it is disabled in your browser.
The Australian understands Mr Nabulsi had been granted visas in 2004, 2006, 2012 and 2013 but was red-flagged last year by Australian intelligence officials
An Intelligence Division ­assessment in July last year found his views against Western values and women — including suggestions they were creations of "Satan" — and defence of a death sentence for homosexuality "were likely to be abhorrent" to sectors of the community.
Mr Nabulsi said in a 2011 ­television interview broadcast by Hamas: "Homosexuality leads to the destruction of the ­­­homo­sexual. That is why, brothers, homosexuality carries the death penalty. When the head of the (Islamic) community in Australia came to bid me farewell … he began to cry, and said: 'Tell our brothers in Syria that the garbage heaps of Syria are better than the gardens of Australia.' When I asked him why, he said: 'There is a 50 per cent chance that you will see your son with an earring in his right ear.' This means he is a homosexual."
The intelligence assessment also cited a book allegedly written by Mr Nabulsi, The Muslim Youth, in which women are depicted as the "devil's temptation".
In November, Immigration told him he would be refused a visa under subsection 501 on the ground he failed the character test.
In his letter to the department, Mr Burke said Mr Nabulsi had complied with visa conditions on previous visits, which he had. Mr Burke asked his letter be put on "Mr Rateb" and his wife's file to be "taken into consideration".
Last night, Mr Burke told The Australian he had sought advice from Mr Dutton on whether there were issues he should have been aware of in relation to the application by Mr Nabulsi but Mr Dutton had not responded.
"It is outrageous and appalling that there were character concerns about this specific individual and he never bothered to let me know, even though I had specifically asked," Mr Burke said.
"Mr Dutton needs to answer the question as to why he kept character concerns secret from an MP who was seeking that exact ­information."
It is understood Mr Dutton declined the department's offer to personally review the case, saying he was satisfied with its decision.
Today, Mr McLachlan will appear at the Senate inquiry via teleconference after he connected his cousin, Callum MacLachlan, to Mr Dutton's office to stop the deportation of a French au pair officials believed intended to work in breach of her tourist visa.
Gillon McLachlan conceded last week the affair had a waft of "mates helping mates" but said he had simply asked for an email to be passed on. AFL head of government relations Jude Donnelly will also appear at the inquiry, which is due to report back by Tuesday.
Labor yesterday said Mr Dutton's use of ministerial discretion was "anything but routine".
Greens MP Adam Bandt has failed to win enough support to move a no-confidence motion against Mr Dutton. Queensland MP Bob Katter and Nationals MP Kevin Hogan said they would not support the motion when it was moved in the House of Representatives next week, leaving Mr Bandt at least a vote short.
The Coalition has lost its majority in the lower house after Malcolm Turnbull quit and Mr Hogan announced he would move to the crossbench but support the government on issues of confidence and supply. Centre Alliance MP Rebekha Sharkie said she would consult Senate colleagues before deciding on the motion.