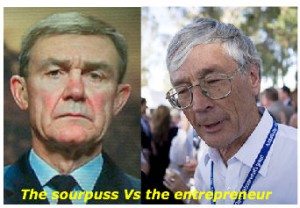 Who do you believe, Sir Angus Houston or Dick Smith?
The chairman of Airservices Australia and former Defence Force Chief, Angus Houston, has repudiated the multiple attacks on him, his management and the nation's air control system mounted in a sustained campaign by prominent aviator and activist, Dick Smith.
This row is now on the desk of Tony Abbott.
Dick Smith is wrong on air safety: Angus Houston

In addition to calling for a range of air control changes, Mr Smith has lodged a series of unusual complaints about the way he has been treated stretching back to 2002. He admits to having a grudge against Sir Angus.

In interviews with The Australian, Mr Smith says Sir Angus has failed to implement superior elements of the US system, that our air traffic control system is dangerously inadequate, that firefighters should be deployed to assist pilots by radio, that the aviation ­bureaucracy operates at cost to safety and that as chairman, Sir Angus must take part responsibility for excessive remuneration at his organisation.

Sir Angus told The Australian the decision to modify adoption of the US system arose from government policy beginning in 2006. It was not his decision. He said, contrary to Mr Smith's claims, Australia had a "state of the art" satellite-based control system that was the "envy" of other nations, that safety was the priority and that executive remuneration at Airservices Australia was restrained and closely monitored.

"This started when I was overseas and I am disappointed about it," Sir Angus said of the Smith campaign. "But at the end of the day this is not about me. I have full confidence in Airservices. We put safety first. We are more than comparable with world's best practice.

"Dick has strong views and his views have been around for many years. By his own admission to The Australian, Mr Smith carries some resentment towards me but I will let Mr Smith's words and actions speak for themselves. People can form their own views on those matters.

"The rest of the world looks on us as the leader in implementation of the global navigation system. Australia was actually the first to see the full potential of this system. Frankly, it is exciting stuff. We can now provide for 100 per cent surveillance coverage of the Australian continent but the system is more accurate than conventional radar. It means Airservices can now see every equipped aircraft at high altitude that is in our air space."

In response to Mr Smith's critique of safety in the system, Sir Angus said all passenger aircraft in controlled air space were "controlled every inch to the ground".

In relation to lower classification airspace, he said "air traffic control provides pilots of instrument flight rules (IFR) aircraft with known traffic information in relation to other IFR aircraft".

Instrument flight rules are used to guide aircraft when visibility is poor.

"The way the air space is kept safe is by the regulator, CASA, doing regular studies in each location," Sir Angus said. An imminent CASA report on Ballina airport is expected to lead to new arrangements there. A former C130 Hercules pilot, Sir Angus said the current air control system was "a significant safety enhancement on what was previously a very safe air traffic system".

In Mr Smith's campaign against defects in the air control system and Houston 11 stories and more than 8000 words have been published in The Australian over the past month.

Every story has mentioned Mr Smith and his views. He is still ­focused on events 13 years ago, telling this paper that in 2002 Sir Angus vetoed his participation in the implementation team for the new air control system, called the National Airspace System (NAS).

In reply, Sir Angus merely said: "Dick says that I vetoed him from the implementation committee. But I wasn't running this committee and I didn't have the power to veto him."

In an extraordinary assertion Mr Smith, thinking he was indispensable, said that without his involvement the new system would not be introduced.

Sir Angus rejects outright the repeated attacks on Airservices Australia chief executive Margaret Staib over her alleged excessive salary and excessive pay rises.

The chief executive is on a salary of $501,864 compared with $488,333 in late 2012. In addition, there is a $100,373 bonus compared with $97,667 in late 2012.

Sir Angus said: "What does the CEO do? The CEO runs an organisation of more than 4000 people most highly skilled and responsible for 11 per cent of air space over the globe. The organisation has safety responsibility covering 4 million flights each year and 90 million passengers.

"In my view, $600,000 is reasonable for this task and the safety responsibility it involves.

"When I joined the board in late 2011, I was on the remuneration committee.

"We felt at that point the need to tighten up executive remuneration. Since then we have been all over the executive remuneration issue and ensuring it is benchmarked against appropriate standards."

Sir Angus said that in setting the salary, a number of public sector benchmarks were assessed. The decision was taken to align the CEO with the level 2, departmental NAS in favour of "the need for a global, seamless, safe and efficient system for air secretary salary''.

"I don't believe any of those secretaries has an accountability for safety to the extent that our CEO does," Sir Angus said.

"It is important to remember that the CEO is an executive director with fiduciary responsibilities which are very different to the responsibilities of a departmental secretary."

Sir Angus issued a remuneration analysis showing that the CEO's total pay increase, including salary and performance bonus, was 2.77 per cent since late 2012. This was significantly below the benchmark comparison over the same time of a 13 per cent average increase for the level 2, departmental secretaries.

Given the extent of the criticism he said: "All executive remuneration goes through the board. I can assure you, there are no issues there. As an organisation we are audited each year by the Australian National Audit Office or one of its subcontractors. Our policy has been to constrain executive remuneration."

The average remuneration package for executives over 2012-13 to 2013-14 was 2.25 per cent. There is, in effect, an executive pay freeze over the 2014-15 to 2015-16 period.

Mr Smith seems to blame Sir Angus for the failure over the years to fully implement the NAS air traffic control system, to which he is deeply attached. It is a bizarre position.

Sir Angus says that in 2006, the Howard government made a policy decision outlined by transport minister Warren Truss that modified the commitment to navigation based upon global navigation satellite systems.

This was cognisant of revolutionary changes in aviation technology. Sir Angus said the basic policy decision to which Mr Smith seems to object was a government decision. It was not Sir Angus's decision. "The Howard government policy statement acknowledged the world was changing and there was a need to modify the NAS implementation approach."

This has been a bipartisan position under Coalition and Labor.

Sir Angus said: "When I was chief of the air force I supported the implementation of the NAS a full 100 per cent. That's because it was government policy and it was my job to implement government policy.

"I was on a committee headed by Ken Matthews, the secretary of the department of infrastructure and transport at the time. The purpose of this committee was to work out the best way to implement the NAS and oversight its implementation."

Sir Angus said, in relation to the 2002 meeting that Mr Smith complains about, that he recollects the meeting and the discussion.

"My recall is that it was with other people involved in the NAS implementation," Sir Angus said. "My view and the view of others was that it was not appropriate for Dick to lead this implementation team. We felt he should be involved at a higher oversight level with the freedom to assist the implementation team when required. This is what happened."

Reviewing Dick Smith's media and political campaign, Houston said: "It's been 11 years since Mr Smith resigned from the Aviation Reform Group supervising the implementation of the NAS. The technology and global thinking in relation to air traffic management has shifted dramatically in the past decade.

"Where once our systems relied on radar and pilots reporting their positions to ground operators, there's now a global shift to implementing satellite-based ­systems, such as Automatic Dependent Surveillance-Broadcast. Australia is a world leader in the implementation of this technology because it provides enormous safety and service benefit in our environment. But there's no room to stand still on matters of safety — we're constantly working to improve the system and this approach is widely supported by the industry from our airline customers to recreational flyers, airports and the regulator.

"I note that 30 of the 47 characteristics of the NAS have been implemented. However, in some areas, government policy and regulations have moved on to reflect progress in aviation. I would welcome Dick making positive contribution to the public debate that recognises the technologies and capabilities of today and the ­future."

Dick Smith has created a huge fuss over the need for ground staff such as firefighters at regional airports to be trained to operate the Unicom radio to provide pilots with weather conditions.

Sir Angus said: "This issue has been looked at over the years. The regulator (CASA) has decided that, if anybody is to provide air traffic information to pilots in a regional context, they must be suitably qualified people. Our firefighters are not trained in that way. Moreover, we want our firefighters ready to respond to any incident or rescue requirement, not handling the radio."

In relation to the accusation that he lacked the stomach to challenge the air traffic controllers union, Sir Angus said: "Our position had nothing whatsoever to do with the air traffic controllers union. It is the regulator that has put these arrangements in place."
Source: The Australian