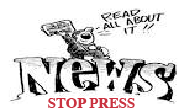 New hope for Peter Greste
"Egypt's president has issued a decree allowing him to deport foreign defendants convicted or accused of crimes, in a move that could affect jailed Australian journalist Peter Greste."
What a wonderful Christmas present for the Greste family and others if this could be so.
Egyptian decree could affect Greste
The decree by President Abdel-Fattah el-Sissi was issued on Wednesday night and comes amid international criticism over Egypt imprisoning Greste and two other journalists from the Al-Jazeera English satellite news channel.

The presidency did not elaborate about the decree, which allows extradition whenever the president decides it is the best interest of the country.

The journalists were convicted of aiding the blacklisted Muslim Brotherhood and falsely portraying Egypt as being in a state of "civil war."

They have been detained since December 2013 and are awaiting an appeal hearing set for January 1.

El-Sissi previously said he was unable to take action in the Al-Jazeera case until after the final verdict.

In an apparent reference to the Al-Jazeera case last month, el-Sissi said he thinks the ideal way to deal with "transgressions" by foreign journalists would be to deport them.
Source: AAP